It's no secret that I love Boon products. I post all the deals I can find, and I always, always tell people that the Boon Squirt feeding spoon is one of my number one favorite baby products! Really, I've stopped couples registering for baby products at Target and told them to add the Squirt to their registry.
Recently, Boon asked me if I wanted to try out one or two of their products. Of course, I agreed, and I was thrilled when they sent me both the Grass and the Stash!
I use my dishwasher for almost everything, but I draw the line at putting bottles and sippy cups in there. I want to scrub out every inch and make sure they're clean! I have two babies under two, so we go through a lot of drinkware for the little ones each day. I'm not a neat freak, but I do like a clean sink, and the full dish drainer was driving me nuts! Really, this is what it looked like almost all the time!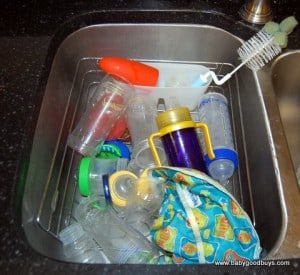 I recently saw Nicole from Making it Lovely using the Grass drying rack, and I fell in love with the look! I need tons of help in the decor department, and her post showed me how the Grass drying rack literally looked so fresh on her countertop!
When I received my own Grass countertop drying rack, I wasn't disappointed! The thing is so cute, it looks like a little piece of art on my kitchen counter! Plus, it serves it's purpose well: It allows me to separate the bottles and sippy cups and get them out of the sink. It also works really well to keep track of the little bits and pieces that you need to wash when you have a baby. The Squirt feeding spoon has a little cap that I've lost a few times. Now, I can pop it in the dish drainer right next to the other pieces and keep it all in one place. I also never have to dig in the silverware drainer for the little valves that go in the sippy cups! Finally, for measuring only 9.5″ x 9.5″, the rack holds an extraodinary amount of cups and bottles. I hang some over the edge, plop more in the middle and stack the bottle rings on top of each other to maximize the space!
Once the washing is done, it's time to put everything away. Cluttered surfaces never feel truly clean or peaceful, but what mom has time to put bottles away in a cabinet (or maybe I'm the only one who just doesn't do that!)? I just find it so much more convenient to assemble the bottles and leave them out and ready to go for the next feeding. While the convenience was nice, it never looked good. I was so happy that Boon sent me the Stash Multi-Room organizer in white, because I didn't realize how much I needed it!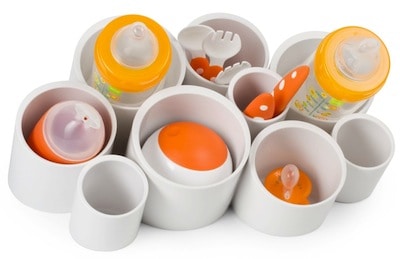 After I'd washed out all of Piper's bottles to try out the Grass rack, I opened up the Stash to see how it would work. It's just as stylish and functional as the Grass! It has various-sized circular compartments that are just ideal for storing bottles, silverware, and other products that are just most conveniently left at arms reach. Plus, it looks great on my countertop with the drying rack!
Another great thing about it is that it's portable. If I have company coming over and I really want to clear off the surfaces, I can just pick the Stash up and tuck it away somewhere. Of course, I don't have the empty cabinet space to just put it away in the kitchen, but I can't be the only one with a mixer, bread machine and feeding storage solution in her laundry room, right?
The last thing I absolutely love about the Stash is that it will continue to be useful long after my babies are done with their bottles and special cups. It comes with hardware to mount it to a wall, or it can stay on a flat surface. It can be used to hold a variety of items, from art supplies to bath products, so I know I'll be able to find a place for it when I'm ready to move it out of the kitchen.
I only have one issue with the Stash Organizer: the packaging! I usually don't get as frustrated as say, my husband, when I have a hard time opening something. I just patiently get my scissors and work on it until I can get it open. The package for the Stash, however, literally broke my scissors! Even after that, it took a long time to get the package open enough to get the product out! Fortunately, the Stash itself is issue-free!
The Grass Countertop Drying Rack has a regular retail price of $17.99. It's sold here at Amazon.com
The Stash Multi-room Organizer retails for $24.99. It can almost always be found for less at Amazon.com.
If you love Boon products, you can find them on these social networking sites:
Boon News blog:  www.booninc.com/blog
Boon's Facebook Fan page:  www.facebook.com/booninc
Follow Boon on Twitter:  www.twitter.com/booninc
FTC Disclosure: This was not a paid post and honest opinions were expressed. Many thanks to Boon for providing the products for my review.