Oh broccoli fries. I first heard about roasted broccoli when a friend told me her recipe was "the best broccoli you'll ever make".
As a mom who's always looking for new and delicious ways to prepare vegetables, I couldn't resist an introduction like that!
I had to make a few changes to use ingredients I had on hand, but Piper took one bite of the roasted broccoli florets and declared them broccoli fries! It made me laugh at first, but after I tasted the crispy, salted pieces again, I had to say that broccoli fries was a great name for the recipe!
Even better, when we started calling the veggies broccoli fries, Haiden was much more willing to eat them. Personally, I'm not a vegetable lover, but I can say that this is absolutely the best broccoli I've ever had. It's so good that I'm sure I'll be making it weekly!
If you take a look at the recipe below, you'll see you can use all fresh ingredients. I don't always have everything like that on hand, and it's super easy to make adjustments to make the broccoli fries recipe work with what you have in your kitchen.
Broccoli Fries Recipe
Broccoli Fries ingredients:
1-2 pounds fresh broccoli
1 garlic clove, peeled and thinly sliced (or 1 teaspoon minced garlic)
1-2 tablespoons olive oil
1/4 teaspoons salt (Kosher or sea salt, if possible)
black pepper
1 teaspoon lemon juice
2 tablespoons parmesan* cheese
Broccoli Fries directions:
Preheat oven to 425 degrees.
Cut the broccoli florets from the stalks, leaving about an inch of stalk attached. Throw away the excess stalks. Cut the remaining pieces into bite-size pieces.
Wash the cut broccoli and thoroughly dry them with paper towels.  If there's moisture, the broccoli will end up steamed and tender, not browned and crisp.
Put the broccoli in a bowl (these bowls have the best reviews!) and toss them with the garlic, salt and pepper and enough olive oil to coat each piece.
Arrange the broccoli on a cookie sheet in a single layer. Roast for 20 to 25 minutes, until crisp-tender and the tips of some of the florets are browned. If they start to get too brown midway through cooking, flip the broccoli with a spatula to cook them evenly.
Remove from the oven and immediately toss with lemon juice and parmesan cheese.
*I had some romano cheese so I used that. My kids added extra Kraft parmesan "powder" cheese to theirs and it only made it better 🙂
The broccoli is best served hot, but my kids and I ate it cold and still thought it was absolutely delicious!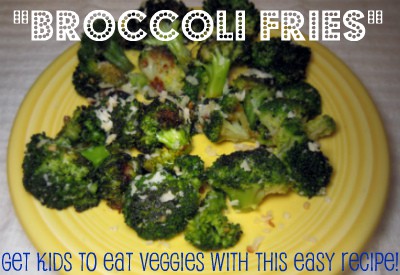 Since we need the broccoli to be dry, it's easiest to use fresh broccoli. I did have about a cup of frozen broccoli in my freezer, so I thawed it in a strainer with a blast of hot water, then I let it drain and blotted it with paper towels until it was dry.
Print the broccoli fries recipe here:
[amd-yrecipe-recipe:5]