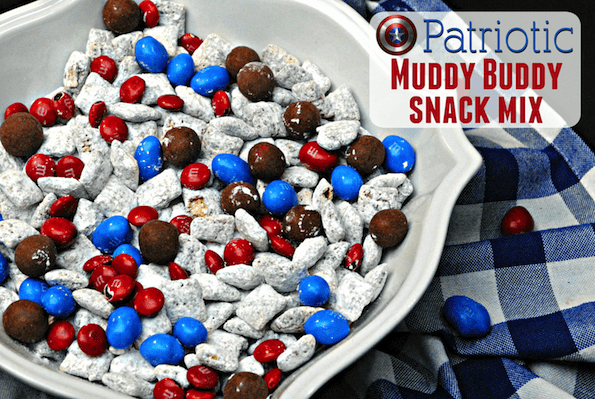 I'm something of an equal opportunity Marvel Avengers fan. I don't have a favorite superhero. I have two favorite superheros!
Iron Man and Captain America are my top 2 favorite Avengers. It's making this whole idea of choosing #TeamIronMan or #TeamCap sides for Captain America: The Civil War so confusing!
Even if you thought you had a favorite, if you attended the Hollywood premiere of Iron Man 3 and visited the Captain America: The Winter Soldier set on an amazing Marvel press trip you probably wouldn't be able to choose either!
Whether you're Team Captain America, Team Iron Man or just an Avengers fan, I think almost everyone is looking forward to the newest movie, Captain America: The Civil War!
There are plenty of ways to celebrate a new movie, but food definitely needs play a part. This Captain America snack mix recipe is perfect for a movie party. I also love that the red, white and blue candies in the recipe also make for some great 4th of July recipes!
What makes this recipe the best Captain America snack mix recipe is that it's a Marvel spin on delicious Muddy Buddies. This chocolate and peanut butter combination melts in your mouth and finishes with a crunch.
Note: the recipe calls for red white and blue Peanut M&Ms. If it's not June or July, these are hard to find! I recommend getting a big bag of standard Peanut M&Ms and only using the red and blue ones.
Also, you can use any candy you want here, so feel free to be creative with your color combinations and flavors!
Captain America Snack Mix Recipe
Ingredients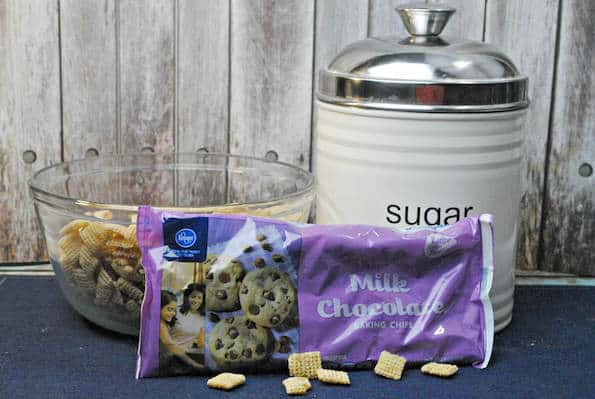 1 cup milk chocolate chips
4 cups Rice Chex cereal
1 1/4 cups powdered sugar
Peanut M&M's in red, white, and blue
Whoppers Candy
Directions
1. Line a large baking sheet (I like this one) with wax paper or parchment. Put your 4 cups of cereal in a large mixing bowl. Set both aside.
2. Put the milk chocolate chips into a microwave-safe bowl. Microwave on high for 30 seconds. Stir. Repeat in 30 second intervals until the chocolate is fully melted.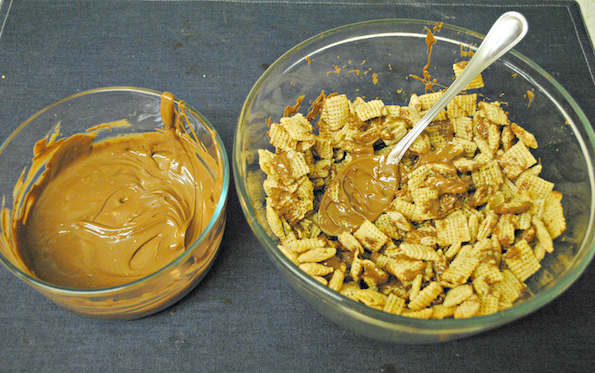 3. Use a large spoon to drizzle the melted chocolate over the cereal. Gently mix as you drizzle, making sure to coat the cereal evenly.
4. Place the powdered sugar in a 1 gallon zip-top bag.
5. Carefully scoop the chocolate-coated cereal into the bag with the powdered sugar. Seal the bag and shake it to cover the cereal with the powdered sugar.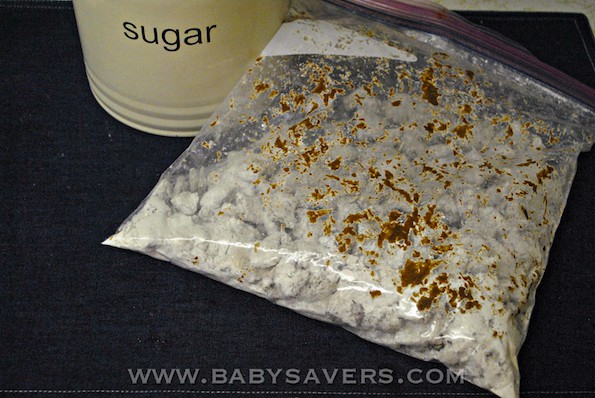 6. Let sit for 1-2 minutes, then spread it out onto the prepared baking sheet. let dry for 1 hour.
7. Put your cereal back in the large bowl and gently mix in the Whoppers and M&Ms.
Find and print just the Captain America Snack Mix recipe below.
If you haven't seen the latest trailer you need to right now! Check it out here:
Captain America: The Civil War opens in theaters everywhere on May 6, 2016! Get your tickets today!