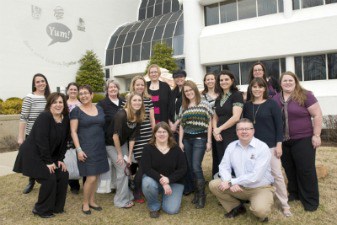 A few weeks ago I was surprised with a blog trip invitation from KFC to visit their headquarters in Louisville, Kentucky. I'm always, always up for learning more about a brand, so I hopped on a plane and met up with 20 other bloggers for the KFC Blogging Experience.
I'm familiar with KFC–as an American, I feel like I've grown up with the brand. As a Minnesota mom, however, I'm not well-versed in the intricacies and varieties of fried chicken. Some of the mom bloggers I met on the trip were actually shocked to learned that I had never made fried chicken at home! Because of that, it's a good thing I, along with the rest of the group, was given the full rundown of how KFC makes their chicken better than any other fried chicken you can buy!
This is a quick video I made when we visited a KFC restaurant in Louisville. Without giving away the 11 secret herbs and spices, the experienced chef gave us a full demonstration of how KFC Original Recipe Chicken is prepared:

All the bloggers attending even had the opportunity to make our own KFC Original Recipe fried chicken, following the exact recipe all the restaurants use!

Even better, we also got to try our creations! Our hands-on coach gave us a lot of guidance, ensuring that our final product tasted every bit as good as we're used to. Here's what we ended up with: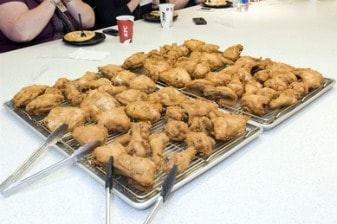 Looks pretty good, right!
I must say, I learned so much about KFC, the food and the company! Here are the 5 most important things I learned about KFC:
1. KFC is very transparent in what goes into their products and how their chicken is prepared  ::  KFC has been delivering, preparing, and serving fresh chicken for a year. Further, they don't buy chicken treated with hormones and they insist that their suppliers treat their chickens humanely. A few years ago, KFC learned that their biggest supplier wasn't treating their chickens humanely. KFC stepped up right away and stopped buying from the supplier before they changed their practices.  You can learn more by checking out the KFC Fact page.
2. KFC is a philanthropic company  ::  KFC has worked to promote higher education with the KFC Colonel's Scholarship. There are presently over 300 students who are going to school with the help of a KFC scholarship!  Whether it's by reuniting family members or helping students pay for school, they are certainly doing their part to help others.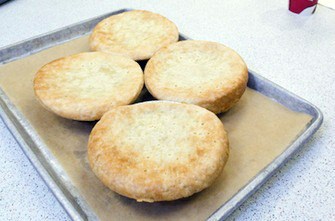 3. KFC can be easy on the wallet :: I think most of us associate big buckets with buying chicken at KFC. You don't have to buy a lot of food if you want to eat a KFC. In fact, they just recently started serving individual Chunky Chicken Pot Pies for just $3.99. We got to try them just before heading to the airport to go home, and they were incredible! Truly, I think pot pie is one of the ultimate comfort foods, and this was delicious. I think $3.99 for a prepared and tasty chicken pot pie is a great price!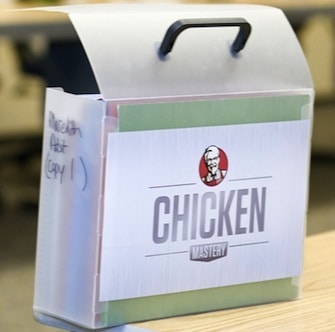 4. All KFC store employees are trained to prepare and serve their chicken exactly the same way, every single time  ::  The video above demonstrates how KFC Original Recipe chicken is made. After we saw the whole process, a corporate trainer explained that each employee is trained to prepare KFC food exactly the same way, regardless of the location. There are several training guides in place to ensure that the chicken looks and tastes right every time a customer orders it. It's nice to think that we can rely on the consistency of the great food we expect every time we visit KFC!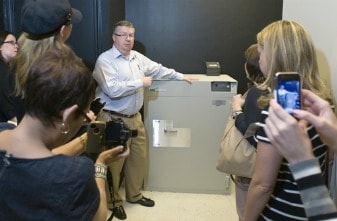 5. That secret recipe with 11 Secret Herbs and Spices? It really is a secret!  ::  The recipe is in a safe in a vault at headquarters. The only employees who are aware of the recipe are sworn to secrecy as part of their employment contracts. I even had a chance to open the vault. My combination didn't do the trick, so the secret remains hidden away.
I'm so excited to share that I have a lot of KFC Gift Checks to give away. So many that I'm giving some away today, but I'll also be giving out more in the next few weeks!
ENTER TO WIN $50 in KFC Gift Checks!
2 winners will receive $50 in KFC Gift Checks. These can be spent like cash at any United States KFC restaurant.
There are some great ways to earn extra entries into this giveaway! All mandatory and extra entries must be submitted within the Rafflecopter Giveaway box below. 

a Rafflecopter giveaway

As a participant of the KFC Blogger Tour, accommodations, meals, transportation, & other gift items were provided. KFC also provided the gift checks for this giveaway. The honest opinions and experiences are my own. Photo Credits: Some photos were provided by KFC and Brian Bohannon Photography.
As always, if you have any trouble entering this giveaway, or if you have any questions, please contact me!