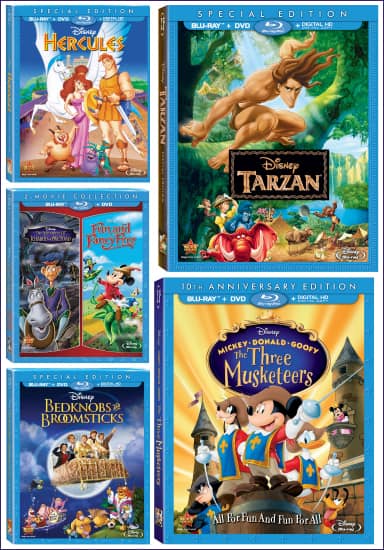 As a lifelong Disney fan, I'm always excited to see Disney movies available to buy that I used to have on VHS (or never had at all).
But with the introduction of Blu-Ray into the market a few years ago, these movie releases have become even more exciting for me. Blu-Ray versions of some of my favorite movies mean digital remastering, HD picture and bonus features with material I've never seen.
I'm excited to share that FIVE of Disney's classic animated movies are being released for the first time ever on Blu-Ray:
Mickey, Donald and Goofy: The Three Musketeers
The Adventures of Ichabod & Mr. Toad + Fun & Fancy Free
I received samples of all of the above titles and I can tell you, these movies are beautiful. I had forgotten how sweet and heartwarming Tarzan is-it's better than I remember it!