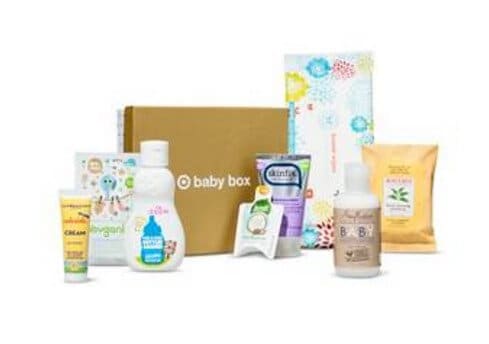 Right now at Target.com you can get this great Target Baby Box for only $7.00! It is filled with some great products by favorite baby brands like Seventh Generation and The Honest Co.
Here is what you get:
Score the best of all things Baby in Target's Baby Box. This super-cute box has a little bit of everything, from shampoo to wipes to creams that help you care for your little one. There's even a little something for you. Let's call it well-deserved pampering. So, enjoy these samples (a $30 value!). If you like them as much as we do, you can find the full-sized versions at Target and Target.com/babybox.
Skinfix Gentle Eczema Balm – Specially formulated for Baby's delicate skin, this eczema balm helps reduce chronic flare-ups while soothing irritated, dry skin on contact. Plus, it's a Parent Tested Parent Approved award winner.
Burt's Bees Facial Cleansing Towelettes ¬– for you! – Pamper yourself with these 1-step cleansing wipes. Infused with vitamin-rich white tea, calming cucumber and soothing aloe, they easily remove makeup, cleanse and tone in one easy step. Talk about a time saver.
SheaMoisture Baby Shampoo & Bath Milk – Cleanse and soften your baby's delicate skin with this certified organic, sulfate-free bath milk and shampoo. The soothing Provence lavender oil and ylang-ylang provide a relaxing scent to encourage restful sleep. Sweet dreams, little one.
California Baby Calendula Cream – Soothing Baby's dry, sensitive skin has never been easier with this botanically based, certified organic cream. Rich and concentrated, it provides deep hydration that leaves skin feeling smooth and smelling great.
The Honest Co. Wipes – Thick and absorbent, these premium baby wipes are perfect for all of Baby's cheeks, messy fingers and more. Plus, they're infused with a botanical blend of cucumber, chamomile, pomegranate and masterwort leaf.
Dapple Pure 'n' Clean Bottles & Dishes – Pure, clean and extremely powerful, this formula effectively cleans bottles, sippy cups, pacifiers, breast pump accessories and more. Even better? It's free of phthalates, parabens and dyes, and is fragrance free.
Seventh Generation Coconut Care Lotion – Gentle and moisture rich, this lotion is formulated with pure coconut oil to help soothe and nourish Baby's skin. The fast-absorbing, non-greasy formula is lightly scented and pediatrician tested. Perfect for Baby (and you!).
Babyganics 3X Laundry Detergent – Spills. Spit-up. Blowouts. They're all likely to happen. This plant-based, triple-concentrated detergent is a real powerhouse when it comes to stain fighting. Plus, it's gentle enough for Baby, yet strong enough for the rest of the family.
This purchase does qualify for the current promotion to get a free gift card with purchase – Spend $125 get a $20 giftcard, spend $200 get a $40 giftcard on select baby items.
Head over to Target.com and get yours today!