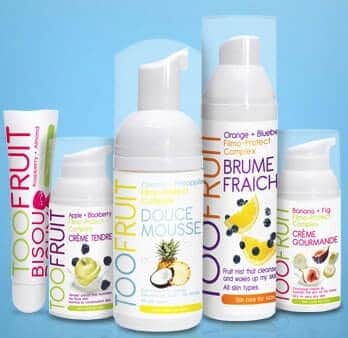 I've mentioned in the past that I'm a Totsy Mom. One perk of being a Totsy Mom is that Totsy occasionally gives me the opportunity to do product reviews. This review was provided by TooFruit and facilitated by Totsy.
As someone with dry, sensitive skin I'm always wary of new skin products for both myself and for my family. So when I was offered a handful of TooFruit products to try out, I was inclined to decline the offer. Then I looked up the brand and found this description:
Before launching TooFruit, the first skincare line for kids, co–founders Katell Perrot and Stéphane Lafond partnered with France's Besançon Hospital to study the skin of kids ages 6–12.

They discovered that young skin doesn't produce enough sebum to create the hydrolipic film that protects against external aggressors in adults, leaving it extra vulnerable.

Based on this finding, TooFruit debuted with fun to use, fruit-derived organic formulas featuring a sebum–like complex that's the perfect way to protect your little one's 'skin'–nocence.
After that, I thought my little ones and I were actually good candidates to try out TooFruit products to see how they worked for all of us.
I received the following items:
TooFruit Douce Mousse Foam Cleanser
Brume Fraice Spray Cleanser
TooFruit Creme Tendre
TooFruit Bisou Doux Lip Balm
I have to say that I've been using the TooFruit products more than I've been using them on my kids! The truth is, the products arrived just as the cold midwest weather was finally lifting, meaning our home isn't as dry as it has been in the months prior.
When our home isn't dry from our furnace running all day, my kiddos simply don't need lotion like they do in the winter. I, however, need to moisturize every day.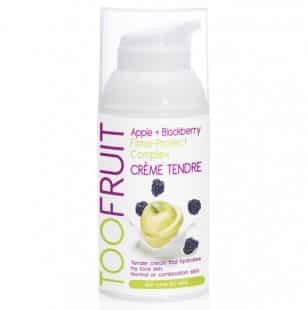 I'm impressed with the information on the bottle of TooFruit Creme Tendre Apple + Blackberry Filmo-Protect Complex:
98.81% of the total ingredients are from natural origin

68.38% of the total ingredients are from organic farming.
No artificial colorings, silicones, parabens, PEG and phenoxyethanol. Natural origin perfume with no essential oils.
Tested on sensitive skin under dermatalogical control.
How does TooFruit Creme Tendre Apple + Blackberry Filmo-Protect Complex work?
The selected fruits allow the skin to fill up with hydration and antioxidents. The Filmo-Protect Complex envelops the skin into an anti-dryness shield.
The result? The barrier function of the skin seems reinforced. Skin is hydrated and so soft!
I did really like the feel of the Creme Tendre lotion, but the scent was far too strong for me. The extra-fruity scent was just too much to have on my face so close to my nose. At the same time, I can see how it might entice a little one to put lotion on her face if she's not usually one who likes that sort of thing.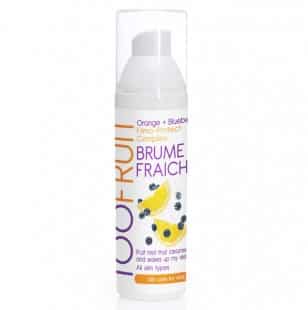 The products I liked the most out of all that I received was the Brume Fraiche Orange + Blueberry Fruit Mist. I'll tell you a little secret about my facial skincare routine: I don't wash my face unless I'm wearing eye makeup. I just let it thoroughly rinse in the shower in the morning, smooth on some moisturizer and I'm good to go for the day.
I like the Brume Fraiche Fruit Mist because the main ingredients are water, fruit water and extracts. It's a refreshing rinse that helps my face feel a bit cleaner at night but still keeps me from washing it with a harsh cleanser.
The TooFruit line is on sale at Totsy right now. Prices start at just $5.99, and shipping is free if you spend $75 or more. Check out everything today!