Heads up! Tomorrow, December 19th, is the last day to order from Amazon with free Super Saver shipping if you want your order to arrive in time for Christmas.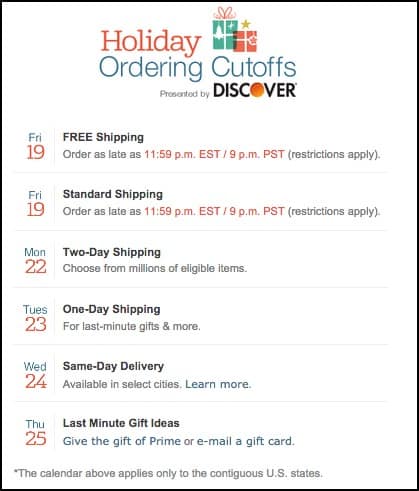 You can check out the handy list above to plan out the rest of your shopping and ensure you get your gifts under the tree in time.
Personally, I have Amazon Prime so I have until Monday, December 22nd to finish up my shopping. I'm pretty sure I'm going to be shopping all the way up to that deadline 🙂
Check out the following links for the best deals from Amazon:
Amazon deals
Amazon toy deals
Amazon baby deals
Amazon movie deals
I say it a lot, but now is the perfect time to sign up for your FREE 1-month trial of Amazon Prime. Not only will you extend the amount of time you can shop for holiday gifts, you'll get the following perks for FREE:
I think paying for Amazon Prime is worth it. Even if you don't think so, everyone should take advantage of the 30-day FREE trial. There's so many benefits to this free offer!