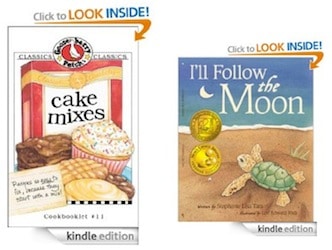 I was just browsing the bestselling Kindle eBooks on Amazon and found a nice selection of FREE eBooks that can be read on many different devices. Some of these books are available in print format for up to $30! Here's what I found:
Cake Mixes Cookbook (Gooseberry Patch)
I'll Follow the Moon (Mom's Choice Award Honoree and Chocolate Lily Award Winner)
25 Days to Better Thinking and Better Living: A Guide for Improving Every Aspect of Your Life
The Day No One Played Together: A Story About Compromise
Crazy Love: Overwhelmed by a Relentless God
51 Amazing Gluten-Free Appetizer Recipes (Fast, Easy and Delicious Gluten-Free Recipes)
Cougar Cub Tales: I'm Just Like You
20 Fun Beginning Reader Books:Helps Children Practice Reading (Learning to Read Series-Level 1)
Memo: The Easiest Way to Improve Your Memory
Why Don't They Come With Instructions?
Just because the price for any one of these books is $0 right now doesn't mean it will always be free. If you like the looks of a book get it now in case the price goes up.
Did you know that you don't need to own a Kindle to read books in Kindle format?  you can find many more FREE Kindle eBooks and easily read them on your PC, Mac, iPhone, iPod, iPad, Blackberry, Android, or Windows 7 smart phone.