This holiday season why not gift someone on your list with a gift of luxury and beauty?
Glossybox is a luxury beauty subscription service that delivers beautiful boxes full with premium beauty products every month, based on our customers' personal beauty profiles.

Each month, Glossybox curates a box of 5 luxury travel-sized beauty products for recipients to lather, blend, soak, spray, buff, and groom. Indulge and experience luxury at its finest.
You can send a Glossybox as a gift for $21, or give 3 months of Glossyboxes for $60. Indulge that special someone with 6 months of Glossyboxes for $115.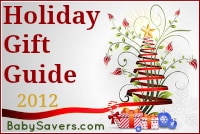 The 2012 BabySavers.com Holiday Gift Guide may contain advertising or promotional information provided by the manufacturer or PR representative.
The gift guide is intended as a shopping guide for the holiday season, and this post should not be considered a product review or endorsement unless otherwise stated. As always, feel free to contact me if you have any questions.–Marybeth