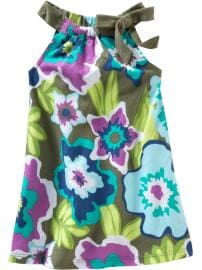 Hurry over to Gap.com and look at the big purple graphic splashed across the middle of the page. Depending on what you see, you'll get an additional 25% or 35% off all clearance items at Gap, Old Navy and Banana Republic online!  Shipping is FREE when you spend $50 or more.
Hint: if you don't see 35% off the first time, try clearing your cookies and going back to Gap.com to see if the better offer pops up.
Once you're in, shop the new fall and back to school styles, or hit up the clearance areas for some steals on clothing for the whole family.
Gap has toddler dresses for girls from $9.99, making them just $6.49 after the 35% off code.
Old Navy has shorts and skirts from $7.97, which means they're $5.18 after the code.
Don't even get me started on the amazing clearance at Banana Republic 🙂
Just start here at Gap.com, then select the stores you want to shop at across the top of the page. You can put all of your items from all stores at one checkout.
Once at checkout, don't forget to use your promo code:
BRONGAP25 25% off your entire order
 BRONGAP35 35% off your entire order