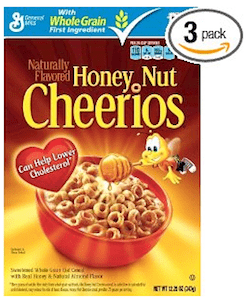 Head over to Amazon and you can get 3 boxes of Honey Nut Cheerios shipped to you for just $5.67, total. that's $1.89 per box (60% off), which is better than your everyday grocery store sale price!
To get the lowest price you'll need to order your cereal with Subscribe & Save. Remember, you're under NO obligation when you do this. I like to choose the Every 6 Months delivery option to give myself a long cancellation window, but I try to cancel my subscription as soon as the order ships.
If you shop with coupons and are diligent in following your store ads, you probably know that this isn't the best price for cereal. On the other hand, it saves a trip to the store and keeps you from those impulse buys!