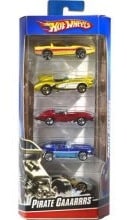 My son has loved any type of car since he figured out how wheels work!
This week at Walmart you can pick up a 5-pack of Hot Wheels cars for $3.97. When you use the Hot Wheels printable coupon to save $1, making it under $4 for 5 cars!
Click the Toys and Games category on the right side of Coupons.com to get to the Hot Wheels coupon quickly.
Here's the toy deal:
::  1 Hot Wheels 5-pack  ::  $4.97
::  Use $1 off 1 Hot Wheels printable coupon
Final price: just $3.97, or $0.79 per car!