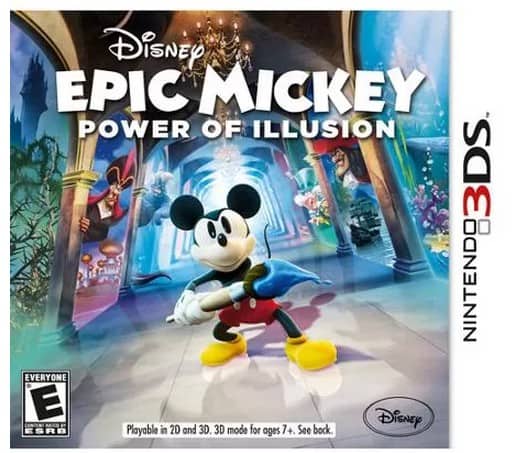 What a great price on a new video game for the kids! Get Disney Epic Mickey 2: Power of Illusion (Nintendo 3DS) for only $5.36 right now at Walmart.com! A great stocking stuffer item to get now and put away until the holidays!
Product Details:
Disney Epic Mickey: Power Of Illusion offers a special drawing and painting function that allows players to create an interactive world by using the stylus to draw objects in the bottom screen that magically transform into classic Disney-style 2D illustrations. Utilizing the game's unparalleled dual screen integration, players will then move their creations to the top screen where they are further transformed into beautiful, fully realized objects that pop off the screen in stunning 3D.
Players will utilize the core "Disney Epic Mickey" gameplay mechanic of paint and thinner while playing as Mickey Mouse in an attempt to save classic Disney Toon characters.
Players will engage in epic boss battles with familiar Disney villains using attacks involving the power of illusions to surprise players.
Players will adventure through game levels based on animated Disney films such as "Peter Pan" and "Aladdin," as well as interact with beloved Disney characters.
In between adventures, players can develop their own fortress by taking a small fort and expanding it into a thriving castle.
ESRB Rating: EVERYONE with Mild Cartoon Violence
Shipping is FREE with Site to Store or $50+ order.