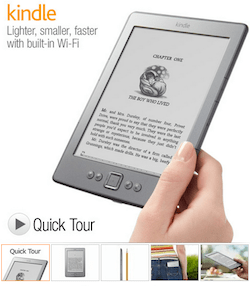 Want a Kindle for less than $50? Here's how:
Visit Amazon Local and order your FREE voucher for $20 Off a Certified Refurbished Kindle. There will be no charge for the order.
Visit this Amazon product page for the Certified Refurbished Kindle and add it to your cart.
Proceed to checkout and enter your unique Amazon promo code for the $20 coupon when you click on Your Vouchers on the Amazon Local page.
Complete the checkout process.
Final price: just $49 for a refurbished Kindle with the same warranty as a brand-new one!
Here's a quick summary of the features of this particular Kindle:
A Certified Refurbished Kindle is a pre-owned Kindle that has been refurbished, tested, and certified to look and work like new.
Includes a full one-year limited warranty, just like a brand-new Kindle
30% lighter, less than 6 ounces
18% smaller body, same 6″ screen size – fits in your pocket
Most advanced E Ink display, reads like paper
Massive book selection, over 800,000 titles are $9.99 or less
Built in Wi-Fi – get books in 60 seconds
Borrow Kindle books from your public library