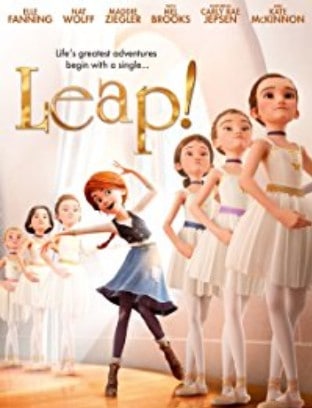 For a limited time, you can take advantage of Amazon's Instant Video deal and pay just $0.99 to rent the cute movie Leap! Get a great movie to watch with the family this weekend or anytime in the next 30 days!
An orphan girl dreams of becoming a ballerina and flees her rural Brittany for Paris, where she passes for someone else and accedes to the position of pupil at the Grand Opera house.
You may not have time today to watch the movie, but with Amazon Instant Video you can buy the movie today for $0.99 but you don't have to watch it right away. Amazon gives you 30 days from any instant video purchase to actually watch your movie!
Pay for a rental today while the price is extra-low, then break it out when your family wants to kick back and watch a movie! Perfect for winter break.
Here are details straight from Amazon:
You have 30 days to complete watching this 48-hour rental.

You can choose to 'Watch Now' or 'Download' it to a compatible device. If you choose to 'Watch Now', you will start instantly streaming the video on your computer and you may later stream it on another compatible device.

If you choose to 'Download' the video, you will be able to download the video to a compatible device and watch the video on that device while disconnected from the internet.