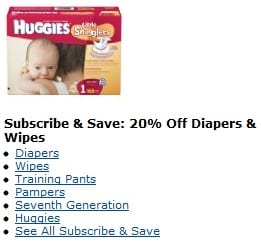 I'm sooooo disappointed to share this with you: Amazon just reduced the Amazon Mom + Subscribe & Save discount from 30% to 20%.
I'm currently rounding up the Amazon diaper deals and wipes deals, and prices are higher pretty much across the board. I am, however, still finding diapers for $0.18 each and wipes for $0.02 each!
What does this mean for Amazon's regular shoppers of diapers and wipes? If you're willing to be patient, Amazon's prices fluctuate all the time. Brand-loyal moms and dads may just have to wait longer and see if the diapers and wipes they need go on sale. When that happens, it will be stock up time for them!
If you're willing to be flexible and possibly try a few new brands, it looks like you're still going to have great luck finding excellent diaper and wipes deals on Amazon!
On the plus side, if you're a current or prior subscriber to any diapers and wipes before the discount was reduced, you'll get to retain the 30% discount! Just log into your Amazon account and click on Manage Subscribe & Save Items. You can see your active subscriptions or reactivate any prior subscriptions you may have had.
Even better, previous subscribers are only attached to the brand and type of diaper in the original subscription. You should be able to change your subscription to other sizes and quantities, letting your subscription grow as your baby grows!
Readers, were you a subscriber before? Will you still be shopping for diapers and wipes at Amazon?