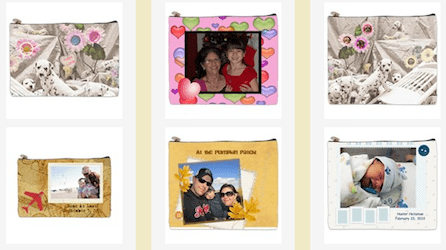 Today through January 10th, you can design 3 photo cosmetic bags for just $10.99 at ArtsCow.com and shipping will also be FREE!
Plus, any additional cosmetic bag you order is just $3.49 each! Just head over to the Cosmetics Bag page to start customizing your cosmetic bags, then enter ArtsCow.com promo code COSBGS1099 at checkout.
You can choose any size cosmetic bag and you can design each individual one. There is also NO quantity limit with this promo code so make sure to set the quantity to the total number of bags you want to purchase (ie. if you want to order 6 bags, set the quantity to 6).
I think that these bags would be perfect little gifts for Valentine's Day, Easter baskets or even Mother's Day. You could even fill them with candy, cosmetics or a special gift and you'd be all set. Since I'm not known as the best gift-wrapper, I'd probably just tie a bow around the bag and skip the wrapping paper, too 🙂