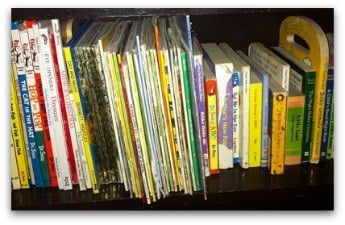 Time flies, right? I can't believe that Haiden, who was just a tiny infant when I started this blog, is now three years old. He is, in fact, at the age where he could go to preschool if my husband and chose to do that.
My sister homeschools her four children, and she has told me time and again that I'm already homeschooling Haiden and Piper just by sticking to our loose daily routine that we have in place!
While I certainly don't consider myself a homeschooler, I do want my children to be successful in their mental and social development. I definitely do some things that are direct in their educational objectives, but we also do a lot of "indirect" activities that are fun for Haiden and Piper while also assisting in their overall "readiness" for education.
So, what sort of things am I doing to prepare my own children for preschool?
Circle Time: I took this routine directly from the home daycare my kids used to attend when I worked at a corporate job. Here's what we do:
Sing the "Circle Time" song to gather up and sit together. (it's a very small circle, since there are only 3 of us!)
Sing the ABC song and sign the letters with ASL.
Count to 20
Sing the "Days of the Week" song
Sing the "Months of the Year" song.
Sing interactive songs like Itsy Bitsy Spider, The Wheels on the Bus and If You're Happy and You Know It.
Reading: We read lots of books throughout the day. Sometimes Haiden and Piper simply want to hear a story. Other times it's far more interactive where they talk about the pictures, answer questions, play "find the…" and sometimes even identify the words on the pages. My husband also reads to our kiddos for about half an hour at bedtime every night. We're definitely in a reading groove, but I can always use more ideas on how to make reading fun and exciting for all of us. These tips for reading with your child are great if you're looking to enhance the reading experience!
Singing: Singing is a great social activity that helps kids learn to work together. We sing songs during circle time, sing to the radio in the car and sing songs just before they go to sleep.
Arts, Crafts and Activities: My sister is very crafty, and she gives me ideas for activities to do with the kids all the time. In addition to those, Haiden and Piper love to color with crayons, paint with watercolors and mold shapes with different types of colored dough.
Outings: We get out of the house a lot, and we do a variety of things. I've realized that we don't need to go to a museum to foster learning. Rides in a car spark all sorts of questions about what's going on in road construction. Walks to the park means we talk about nature and leaves. Trips to Grandma and Grandpa's house mean a whole host of new things to talk about and try!
I don't want to stress myself or my kids out, so we also have plenty of downtime where we play outside, snuggle, play "wrestle" and do all sorts of relaxing. All in all, I want my kids to enjoy being at home with me as much as I love being at home with them. It's the little everyday moments that matter the most in the long run, and I love all of them!
I'm just a mom, and I don't have any experience in education or childhood development. It just makes sense to me, however, that taking advantage of all those teachable moments and maintaining some structure in our days are some of the best things I can do to prepare Haiden and Piper for preschool.
I'm curious to know: What advice do you have for moms prepping for preschool? KinderCare will choose one lucky participant and make donation in their name to the Reach Out And Read chapter of their choice!
This is a sponsored conversation written by me on behalf of KinderCare. The opinions and text are all mine.
Image credit: Brandi Jordan
Official Contest Rules.