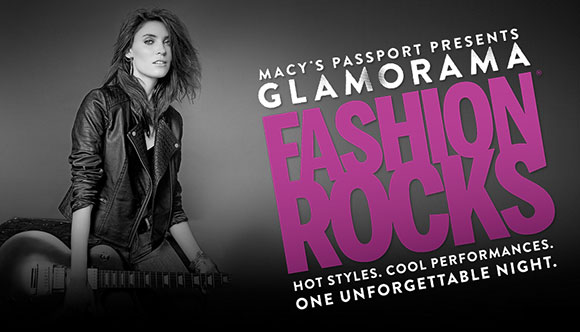 This Friday, August 1, 2014, you can take in one of my favorite annual events in the area: Macy's Glamorama at the State Theater!
As a Minnesota mom blogger, I'll be attending the event, live tweeting and instagramming the best moments so I can share them with all of you! Be sure to follow me on Twitter and Instagram and watch for the #Instagram hashtag.
Glamorama is a fashion extravaganza with musical performances by Jason Derulo and Before You Exit, all benefitting Children's Cancer Research Fund!

FASHION ROCKS takes center stage as the theme of this year's celebration, with music and fashion connecting to ignite the flame of imagination and self-expression.

Merging the fashion spectacle of the acclaimed FASHION ROCKS television event with Macy's signature mix of pop-culture, style, music and dance, the Macy's Glamorama FASHION ROCKS audience will experience the best of fall 2014 fashions with collections by Calvin Klein, Diesel, Hello Kitty, I.N.C. International Concepts, Weekend Max Mara and more.

Models' looks are completed with makeup by Lancôme and hair by Lili Salon.

Following the rock-n-roll themed show at the State Theatre, experience the after party on the 8th floor of the Macy's Downtown Minneapolis store.

Relax in rock-themed sponsor lounges, interact with over-the-top activities, and enjoy a vast array of delicious culinary creations and special libations guaranteed to rock your taste buds.

This year's Glamorama after-party menu is inspired and directed by Macy's Culinary Council Chef Michelle Bernstein.

In 20 plus years, Macy's Glamorama has contributed nearly $5.0 million to the Children's Cancer Research Fund. Proceeds from the event support lifesaving, leading-edge research in the prevention, treatment and cure of childhood cancers and blood disorders. "Macy's is helping us to change children's lives by funding research that is changing the practice of medicine," said John Hallberg, CEO of Children's Cancer Research Fund. "We engage more people in our mission, and provide hope to more families because of the support of Macy's, their retail associates and their customers. Their partnership is truly making a difference."
Glamorama tickets are on sale and can be purchased through Children's Cancer Research Fund,at the State Theatre Box Office or via Ticketmaster.
Travel information:
Check for the lowest flights on CheapoAir. Need accomodations while downtown? How about the Holiday Inn? Check rates here!