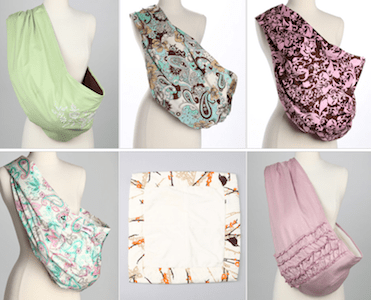 If you're new to Zulily, please sign up here!
Zulily just opened a Peanut Shell sale and the prices are really good!  You'll find Peanut Shell classic slings for just $17.99. that's a huge savings from prices of about $40 to $50 on Amazon!
There are also fancier adjustable and Heirloom carriers that cost a bit more, plus stylish blankets and carrier covers.
I had a Peanut Shell sling for Piper and I liked how it grew with her. My favorite time for using it was actually when she was over a year old! She always wanted to be carried, and the Peanut Shell was perfect for carrying her on my hip while keeping my hands free. My hands were usually free to hold a Diet Coke, but that's beside the point 🙂
Shipping is usually $5.95 or $6.95. I like that you can place your order and pay for shipping. Then, any other orders you place for the rest of the day get FREE shipping! It's a great way to make sure you don't miss out on the items you really want, then allowing you the time to browse around and see if there's anything else you'd like.
You can also use Zulily promo code GA3468 to save $5 off orders of $50 or more OR use Zulily promo code COUPZU3468 to save 10% on orders of $50 or more.