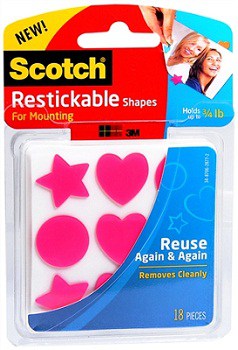 My husband and I have slowly been doing some light remodeling projects around the home. It's nothing major; just painting, replacing doors and updating hardware around the house.
At the same time, Haiden and Piper are starting color, draw or paint almost every day. Plus, I have some amazing little nephews and nieces who create artwork for our family all the time .Of course, I want to show off their artistry, but I hate the thought of using tape on our freshly-painted walls. Our fridge is a rotating display of toddler artwork, and I've definitely needed a solution to expand my "gallery."
I recently had the opportunity to try out the new Scotch Restickable mounting products. These products are genius for hanging pictures, photos papers and other items on walls without damaging them!
I seriously don't know how 3M and Scotch come up with their innovative "sticky" products that don't do any sort of damage (Post-Its, anyone?), but I'm excited that they've expanded their line to include products that hold up heavier objects. The Restickables are actually pretty amazing. You can stick them on a surface, remove them, and stick them up again. If they lose their stickiness, you can wash them off and use them again!
The Restickable products come in two varieties: clear strips and colored shapes. Of course, Haiden and Piper prefer the shapes. My kids have four sweet cousins who constantly create pictures and other art projects for them. Haiden and Piper were thrilled when they saw the artwork displayed on their bedroom door with a variety of colored shapes! They kept pointing out the pictures and the little things that were being used to hold them up.
The Restickables are also very child-friendly. I love that Haiden can post his own artwork on the wall. If he doesn't get it just right the first time, he can take the Restickables off and try again!
Note: Scotch Restickables are a choking hazard, so be sure to keep them out of reach of children under 3.
The clear strips are pretty fantastic for securing objects and keeping the evidence out of sight. I have two toddlers, so things get bumped and banged all the time. I don't want to put away every single breakable item in our home, and these little strips are great for keeping items from sliding off of end tables. I tried a strip underneath a decorative glass bowl and it definitely kept it from creeping toward the edge of the table little feet ran through the room!
I made a quick video to demonstrate how I used 4 Scotch Restickable Shapes to hang up a decorated card on a painted door. Click the "Play" triangle above and you can even see how you can unpeel the shape and use it again!
Back to School time is here, which means that kids will be bringing home new art projects all the time! If you're looking for a photo-safe, multitasking product that can hang artwork, mementos, and many other items on nearly any surface, try out the new Scotch Restickables products!