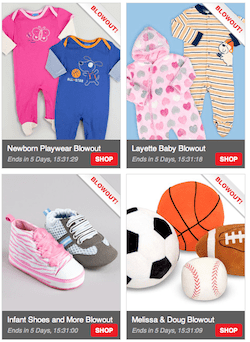 Totsy's amazing blowout sales are back! Visit Totsy and you'll find blowout sales in the following categories:
Newborn playwear
Baby layette
Kids casual, dressy and athletic footwear
Infant shoes
Favorite toy brands
Books
Arts and leisure
Kids room decor
Shoes for mom
Home accents
Holiday decor
Maternity clothes and undergarments
Tops, dresses and other apparel for mom
Clothing sets for toddlers, and babies
Kids sleepwear
There are way too many categories to list here, but there's something for everyone! Head over to Totsy and see what's on sale.
If you're new to Totsy you can sign up here and you'll get free shipping on your first order!