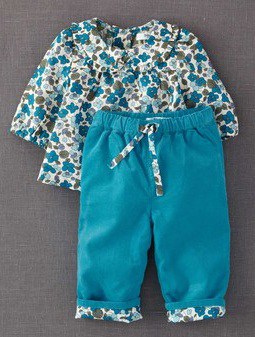 Have you shopped the Boden babywear clearance lately?  Here are some great deals I just found at BodenUSA.com on clothes for children ages 0 to 3 . . .
Pretty Play Set :: $15.60 (Reg. $52)
Animal Adventures T-Shirt :: $11.00 (Reg. $22)
My Baby Knitted Dress :: $26.40 (Reg. $44)
Knitted Jacket :: $29.40 (Reg. $42)
Winter Jumper (Sweater) :: $16.80 (Reg. $42)
Fun Dungarees (Overalls) :: $15.20 (Reg. $38)
Baby Jeans (Denim or Corduroy) :: $13.60 (Reg. $34)
Shop the Boden clearance section for more great baby clothing deals, as well as deals for men, women, and kids!  Remember, quantities and sizes are limited on clearance items, so do not wait too long to checkout if you find items you like.
$10 flat rate shipping for any size order and all orders placed on the same business day.