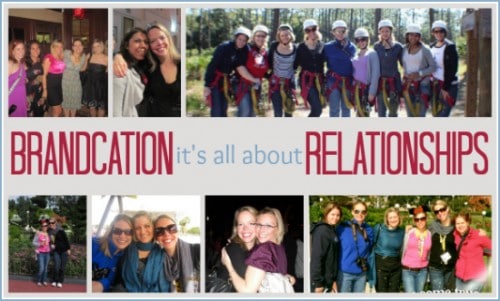 I didn't know about blog conferences until months after I started this website back in 2008. From the talks on various websites and Twitter, it seemed that popular blog conferences were all about swag.
I heard stories of the biggest women's blogging conference being a free-for-all of samples, gifts and more stuff than anyone would ever need. It was so bad that the attendees seemed to become immune to it. Products big and small were left behind, trashed and taken for granted.
Sadly, that "relationship" the brand was hoping to form with a huge group of influential women by gifting them with swag backfired, and their products were generally lost in the sea of goods that everyone took home with them.
Personally, I didn't have it in me to attend a gathering like that. Sure, I love freebies, but the investment of time away from my family and travel expenses along with the emotions involved in attempting to find a place among thousands of people was far more than what I anticipated getting in return.
No. If I was going to attend a conference, it was going to be worth my while. I needed  to see a return on my investment. I didn't know what type of gathering it would be, but I'd know it when I saw it.
BOBNOLA (Bloggers on Bourbon Street, New Orleans, LA) popped up. I didn't personally know any of the people who were attending. I'd never been to New Orleans. But it felt right. I admired a good number of attendees. The itinerary was adventurous. There were well-known sponsors. There were only 30 tickets available for purchase. When 29 were sold, I bought the last one.

That event changed my blogging life. So much so that when the event name was changed to Brandcation (by Brandfluential) and the next one was announced for Kissimmee, Florida, I bought my ticket right away and got even more out of Brandcation Global Getaway than I did from BOBNOLA.
Why is Brandcation different than other blogging conferences? I'll say it loud and clear:
BRANDCATION IS ALL ABOUT RELATIONSHIPS
Brandcation attendance is limited to about 30 people, including the organizers. That means attendees learn everyone's names. The URLs of all blogs are shared and memorized. Bloggers learn where others are from, and what they're passionate about.
Brandcation sponsors understand the intimacy of the event. The brands are spoken about, tweeted about and appreciated via blog posts and social media. But they're not glorified, and they're not the centerpiece of the entire event. Rather, brands exist alongside the bloggers, supporting but not interfering with the relationships forming among participants.
There are no formal classes, sessions or seminars. But that doesn't mean attendees don't learn. I learned more about the intricacies of search engine optimization in one car ride with Trisha and Jess than I had ever learned from articles and documentation. Courtney educated me on building a mailing list while waiting for a ride from Disney World back to our rental home. Shasta encouraged me to blog about the personal details of my life during a late night conversation with her and Kathleen. Bridgette, Cissy, Nicole and Maggie totally schooled me on Twitter hashtags when I was least expecting it, and the impromptu education cemented my friendships with all of them.
Brandcation proves that taking away formal classes doesn't eliminate education and growth. The learning happens naturally, because the attendees want it to happen.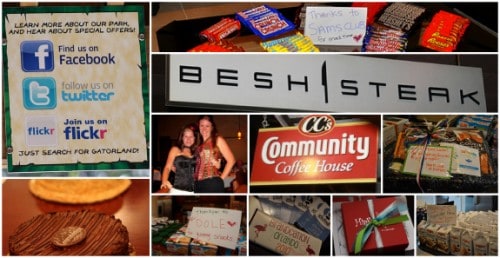 Brandcation also easily proves that a conference doesn't require a brand to sponsor a swanky party with ridiculous party favors and over-the-top antics to leave a lasting impression in an influential mom blogger's mind. Though it's approaching three years ago, I'll never forget that Lingerie.com provided a New Orleans Ghost Tour for all BOBNOLA attendees. They didn't give out swag (it wasn't necessary), they just asked that our two fearless leaders wear adorable corsets from their shop for the duration of the tour. Now that's a memorable way for a brand to reach out to bloggers!
I'm also thrilled with the connection I've made with Global Resort Homes during both Brandcations I've attended. Global is a solid brand. I like their team. I believe in them and I recommend their vacation rentals whenever I talk to anyone planning a Florida vacation.
I was unable to attend the two Brandcations that took place in 2012. Now, I'm so excited that I have plans to attend the 5th Brandcation: It's not the Journey, It's the DESTINation in Destin, Florida in May.
Bloggers to bloggers, bloggers to brands, even brands to brands. The relationships formed at Brandcation are like none other, and I'm so thrilled that I've had the opportunity to grow and cultivate my own relationships as a Brandcation attendee.
Brandcation It's Not the Journey it's the DESTINation promises even more of what I've come to expect from Brandcation. I have no doubt that I'll walk away with fabulous new friends, new business relationships and an overwhelming amount of ideas for how to reach new heights both personally and professionally!
Special thanks to the following Flickr users/bloggers for some of the photos used above: [email protected], Mommy23Monkeys and LorieShrewbridge.