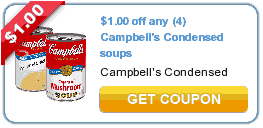 It's getting chilly out there!  That means it's time to stock up on canned soups for a hot warming meal anytime you need one.  Remember to buy what you need for any favorite Holiday recipes, such as green bean casserole.  If you don't need 4 cans, consider donating the extras to your local food pantry.
Print out the new Campbell's Condensed soups coupon to save $1.00 on 4 cans of Campbell's Condensed soups, then take them to Target for this deal:
Campbell's Cream of Mushroom soup and Cream of Chicken Soup are $0.75 each this week
Buy 4 and use the printable Campbell's Soup coupon
Your final price is $0.50 each when you buy 4!
Visit my printable coupon page to find the newest manufacturers coupons!