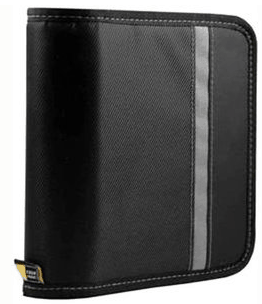 Right now, you can pick up a Case Logic 24-disc CD Wallet for just $1.99 on Walmart.com. You won't even pay for shipping if you opt to pick it up at your local Walmart store!
We somehow have several DVDs without cases. A little wallet like this would be perfect to protect the discs from (more) scratches and damage!
About the product:

Keep your discs protected with the 24-Disc CD Wallet from Case Logic. Its patented polypropylene ProSleeves keep dirt away, preventing the delicate surfaces of your CDs and DVDs scratch-free. Plus, the CD Wallet's durable nylon material is resistant to abrasion.
Accessibility:  Slide insert
Material:  Nylon
Color:  Black
Dimensions:  6.75″ x 6.5″ x 1.75″
Weight:  4 oz
Compatibility:  CDs and DVDs