As a Mrs. Dash Brand Ambassador, I've been preparing new dishes and replacing salt with actual flavors. Since there are 14 varieties of Mrs. Dash, it hasn't been tough to find a seasoning mix that fits well and adds fantastic flavor to the food I'm preparing.
I've been wanting to showcase the Tomato, Basil and Garlic Mrs. Dash seasoning blend in a recipe since I received my samples. I started out by trying it in a a few family-friendly pasta dishes, but the flavors didn't come through when combined with the sauces that were necessary for lasagna and spaghetti.
Then, I came across a recipe for Cheese Pinwheel Rolls and I knew that this was the recipe that would be perfect for my Mrs. Dash seasoning! Oh, was I right. This is a great standalone recipe, but the addition of all the Italian herbs (with a big nod to garlic and basil) made my rolls outstanding!
Here's how I made them: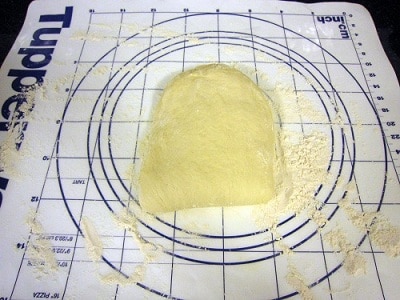 Start with one batch of pizza dough. You can use store-bought, but I made my own favorite pizza dough recipe. Prepare it, let it rise, then plop it onto a pile of flour.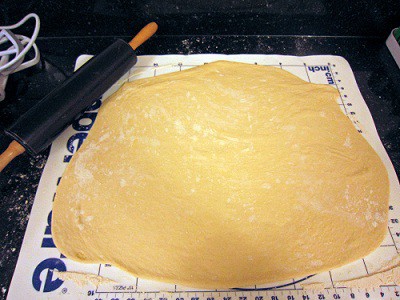 Roll it out into a rough rectangle. I like to make mine big;  about 16″ x 16″ (according to my pastry mat). It doesn't have to be perfect. If any toppings fall out you can stuff them back in.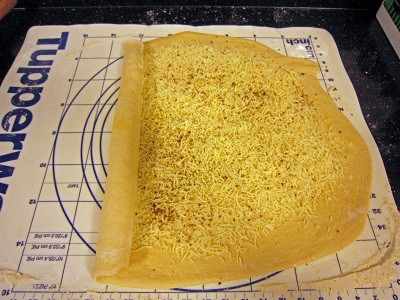 Spread the dough with a little unsalted butter, then drop your Italian-blend cheese on top. Pretty much any cheese that melts well will be delicious in these rolls; I prefer to open up a bag of already-shredded Kraft Italian cheese. It makes my life easier 🙂 Then, sprinkle on a lot of Mrs. Dash Tomato, Basil and Garlic seasoning blend.
Starting at one edge, roll the dough up just like a batch of cinnamon rolls.
Cut the dough into 12 pieces. Knives tend to squish dough, so I always use unwaxed dental floss to make a clean cut between rolls.
Put each roll in a lightly greased square baking dish.
Cover them with a towel or plastic wrap and let them rest for 30 minutes. I put them on the stovetop while the oven below preheats to 350. The warm air that escapes makes a nice environment for the rolls to gently puff up again.
Bake at 350 for about 25 minutes.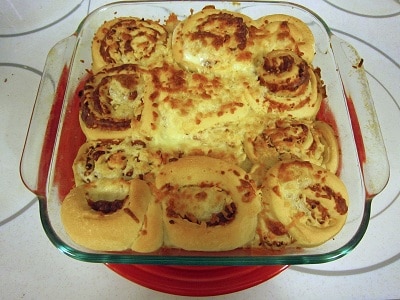 This is what they look like when they're done. I'm kicking myself for not taking a picture of the bottom of a roll. they're perfectly-spiraled swirls that are super-cute (and far more attractive than the tops!). Eat them hot, room temperature or cold. They're delicious at any temp!
Looks good, right? Here's your recipe:
Homemade Pizza Pinwheel Rolls with Tomato, Basil and Garlic Seasoning:
1 batch pizza dough (about 1 lb. if it's premade)
1 tablespoon unsalted butter, melted
1 cup shredded Italian-blend cheese.
1-3 teaspoons Mrs. Dash Tomato, Basil and Garlic Seasoning Blend
Directions:
Grease a 8×8 or 9×9 square baking dish.
Roll out prepared pizza dough to a large rectangle.
Spread melted butter onto the dough with a pastry brush or spatula.
Sprinkle cheese on top of the butter, then sprinkle Mrs. Dash seasoning on top of the cheese.
Start on one side and slowly roll up the dough until you have a nicely-formed "log"
Slice the log into 12 equal rolls, then line up the rolls into your prepared baking dish.
Cover the dish and let the rolls rest for 30 minutes.
In the meantime, preheat the oven to 350.
Bake the rolls for 20-25 minutes until puffed up and golden brown.
Enjoy with a side of low-sodium marinara sauce!
I wrote this review while participating in a campaign by Mom Central Consulting on behalf of Mrs. Dash and received a gift certificate to thank me for taking the time to participate.