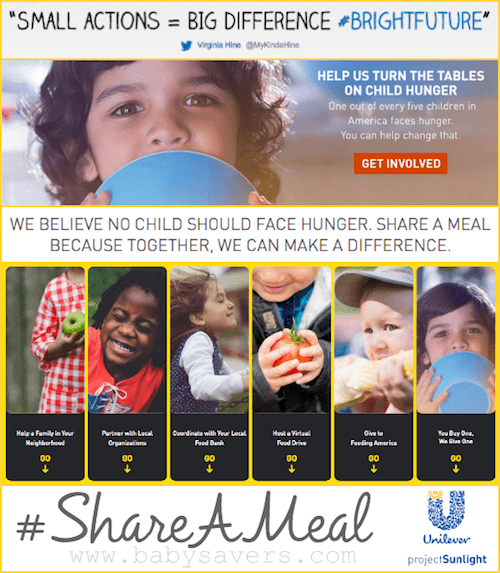 Sometimes it's easy to become immune to issues that we hear about all the time. I liken it to any sad or bad news that I happen to hear. The first time you hear the news, it's the worst. The most impactful. The second time may be nearly as painful. But when you hear the same heartbreaking story over and over again, it becomes easier to let the details fly over our heads.
But one thing that gets me every time I hear about it is childhood hunger. Especially childhood hunger in the United States. I can't imagine being desperately hungry myself, and the thought of children experiencing that is devastating.
If you think your community is immune from the tragic problem of childhood hunger, think again. 16 million children in our country are struggling with hunger. That's 1 in every 5 children!
The fact is, hunger in America exists in rural, urban and suburban areas. There are kids in nearly every neighborhood who don't know where their next meal is coming from.
Hunger in children has a far greater, more troubling impact than the simple lack of food in tummies. The effects of hunger include decreased concentration, decreased physical health and mental health issues.
Consider those issues coming into play in the classroom, and think of the impact hunger can have on a child's ability to learn and be educated. Thinking about it in the big picture, it's easy to see how malnourished children have a long-term effect on their communities!
Going to Bed Hungry: The Changing Face of Child Hunger is a powerful short film on YouTube that puts childhood hunger in perspective. It also shares the goodness of food banks and gives a perspective from actual parents who struggle to provide for their children.
Watch the video. You'll see that the people don't "look hungry." Yet their struggles are real and they're not alone in their hunger.
You can do more just by sharing just one meal in your community. Get in touch with your local food bank and find out specific ways you can help. You can also ask local schools and churches if they accept any assistance or donations for fighting hunger in the community. In addition to full food banks, I was surprised to find two local churches, both within a mile of my house, have food shelves that are open to the public. Both places happily accept food and monetary donations.
You also can act now by visiting Project Sunlight and finding specific places you can volunteer, donate products or donate money.
What is Project Sunlight?

Launched in November of 2013, Unilever Project Sunlight is a long-term initiative to motivate people to live sustainably by inspiring them to create a brighter future for children. Unilever Project Sunlight believes a future is possible where every child has a healthy and happy childhood and it was natural for this mission to extend to another important cause – child hunger in America.

Unilever Project Sunlight believes that even the smallest act – whether it's sharing a meal, donating time or money, or volunteering – can make a difference when multiplied over time and help build a brighter future for children.
If you're not inclined to be a part of the solution yet, do nothing but watch Going to Bed Hungry: The Changing Face of Child Hunger. You won't regret it!
I would also be so happy if you helped me spread the word about this important campaign. Please share the video on your social media channels using the hashtag #ShareaMeal
We can ALL do something, even something small, to fight childhood hunger in our country and in our communities. What have you done, or what could you do to be a part of the solution to childhood hunger?
This is a sponsored conversation written by me on behalf of Unilever. The opinions and text are all mine.