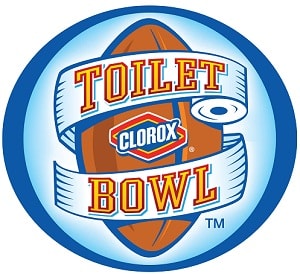 My husband loves football, and I grew up in a family where "the game" was always on TV on Sundays. While I'm not a huge football fan myself, I do love Superbowl Sunday. Whether we spend the day at my parents house with my side of the family or at James' parents' house with my in-laws, the day always means party food!
Gathering around the television to watch a football game and nosh on some yummy snacks is what makes football fun for me! My husband's family always has sandwiches and tons of snacks that get rolled out one after the other throughout the game, while my family tends to snack on appetizers throughout the first have, indulge in coney-style hot dogs during half time then eat dessert throughout the second half. I even remember the first dish I contributed to the Superbowl party in my family: Chili Cheese Dip! Since then I've moved onto more complex recipes, but this simple and tasty recipe is a perfect crowd-pleaser for any football game:
Chili Cheese Dip Recipe
2 8-ounce packages of cream cheese (softened)
1 15-ounce can of no-bean chili (I like Hormel)
16-ounces finely shredded co-jack cheese
Tortilla chips

Spread cream cheese on the bottom of a oven-safe dish. I use an 8×8 square but a 7×11 works, too! Spread a layer of chili over the cream cheese. Finish with a layer of shredded cheddar cheese. Bake at 325 for about 20 minutes, until bubbly. Serve with tortilla chips. Note: this can also be microwaved for about 3-5 minutes until thoroughly hot, but it looks much better if it's baked!
Clorox is celebrating family football traditions with the Clorox Toilet Bowl Ode to the Commode contest. Enter and you can win a trip to New Orleans to play in the first-ever Clorox® Toilet BowlTM with ESPN analyst and former professional player, Jesse Palmer, as your quarterback! You definitely need to have a family tradition of you own to share, complete with a photo, so  be prepared when you enter!
Clorox is also offering one lucky reader a Clorox Toilet Wand gift pack complete with a Clorox Toilet Wand and football!
Want to win a Clorox Toilet Wand Gift Pack?
To enter, leave a comment sharing a family football tradition you have or (one you'd like to start).

*************************
The above entry is mandatory. If you'd like additional entries, you may do the following:
Subscribe to the Baby GoodBuys email newsletter: Enter your email address here or in the box below. You must click the confirmation link in the message that's sent to you. All entries will be verified to ensure the email address is confirmed. (Leave a separate comment letting me know you're an email subscriber).

Subscribe to the Baby GoodBuys RSS feed in a reader: You can do this by clicking here and adding this site to your reader. (leave a separate comment stating that you subscribe to the feed in a reader).
Add Baby GoodBuys to your Blogroll or post my button on the sidebar of your blog: Button or blogroll link must be on your front page sidebar, not in an individual post or footer. (Leave a separate comment with your website URL).
Join the Baby GoodBuys community on Facebook for more conversation, additional baby deals and much more! (leave a separate comment with your Facebook display name).
Follow @BabyGoodBuys on Twitter and tweet the following:    Enter to #win a Clorox ToiletWand Gift Pack from @BabyGoodBuys https://bit.ly/gg52Ze #Giveaway (leave a separate comment with your Twitter ID and a link to your tweet).

*************************
Contest Details: Contest ends on 12/3/2010. United States residents only. Valid email address is required. All entries without a valid email address will be disqualified. Duplicate, fraudulent and/or invalid entries will be disqualified. Winning email notification must be responded to within 48 hours or that winner will forfeit the prize and a new winner will be selected. Winner will be selected with the And the Winner Is WordPress Plugin. Winner will be notified via email. A screenshot of the winner selection will be saved and provided upon request. Winner's first name will be posted on this giveaway/contest post. All questions should be directed to babygoodbuys(at) gmail(dot)com.

If you are the winner of this giveaway please do not contact the sponsoring company or any other business mentioned with questions about prize fulfillment. All questions should be directed to me at babygoodbuys(at)gmail(dot)com. Contacting anyone other than me may disqualify you from prize fulfillment.
I wrote this review while participating in a blog tour campaign by Mom Central Consulting on behalf of Clorox and received a gift code, toilet wand and football to thank me for taking the time to participate.