This post brought to you by Comfort Zone® products. All opinions are 100% mine.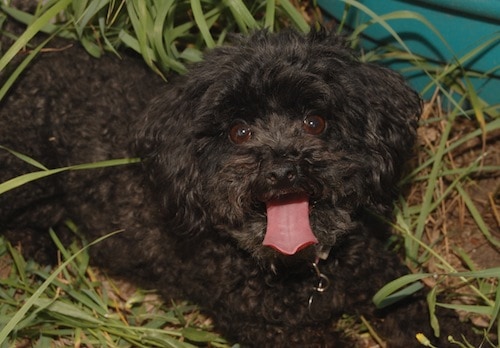 I adore my dog. Honestly adore her. From the moment I saw her picture on Petfinder.com, I immediately sensed a bond with her. After meeting her in person with her proud foster mom, there was no way she couldn't be a part of our family.  Because Jersey was adopted from a shelter, I felt at least somewhat prepared to deal with quirks and behavior challenges. 
Thankfully, Jersey is about the nicest, sweetest dog around and she also ended up being incredibly easy to train. The little, furry smarty-pants only took a small handful of treats to learn basic commands like, sit, lay down, and stay.
As perfect as she is, Jersey is known to shows signs of stress when we have a house full of guests and when we travel and stay in another home. That stress seems to come out in the form of digging in furniture, whining in her kennel or house soiling.
Those common signs of stress in dogs made Jersey and I good candidates to try out Comfort Zone® with D.A.P.®. Comfort Zone® with D.A.P.® (Dog Appeasing Pheromone) is a line of products for dogs to help control excessive barking, destructive digging, chewing and house soiling.
How does Comfort Zone® with D.A.P.® work? It helps manage stress-related behavior in dogs caused by thunderstorms, loud noises like fireworks, new environment adjustments, transitions, traveling and other circumstances. The products mimick their natural pheromones that help them feel calm and comfortable in their environement. Comfort Zone® with D.A.P.® can also help to manage nighttime whining during transitions to a new home. (It makes me wish I would have had it for our first few days after brining Jersey home!)
We used the Comfort Zone® with D.A.P.® diffuser that plugs into a wall outlet and continuously diffuses an odorless vapor that mimics a dog's natural calming pheremones.
I have to admit, I didn't see much of a change in Jersey's behavior for the 30 days that I used the Comfort Zone® with D.A.P.® diffuser, but the product actually recommends using it for 90 days before drawing conclusions about its effectiveness. Because of that, I can't say definitively if it affected Jersey.
Right now, Jersey's stress seems to be well managed. The number of houseguests we were supposed to have for the holidays changed from several to 0, and  we don't frequently visit others for overnight trips. That automatically reduces the amount of stress, and resulting misbehavior!
If our circumstances changed and I knew we were going to have frequent guests or we were going to be traveling a lot, I would definitely start using Comfort Zone® with D.A.P.®  as soon as I could!
Comfort Zone® with D.A.P.® is available in a diffuser or spray for use in home or during travel. Y