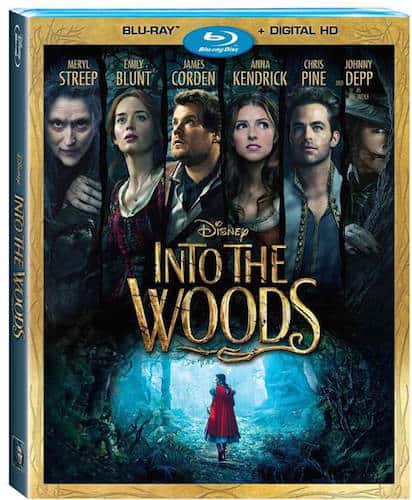 It seems like Disney announced it's production of Into the Woods so long ago, but I really couldn't wait for the Blu-Ray release!
The truth is, I can consume every fact, story and bit of trivia from so many musicals. The fact that Into the Woods is a Disney-made Sondheim musical means that I couldn't wait to get my hands on my own copy to take in all the extras on the Into the Woods Blu-Ray and digital HD!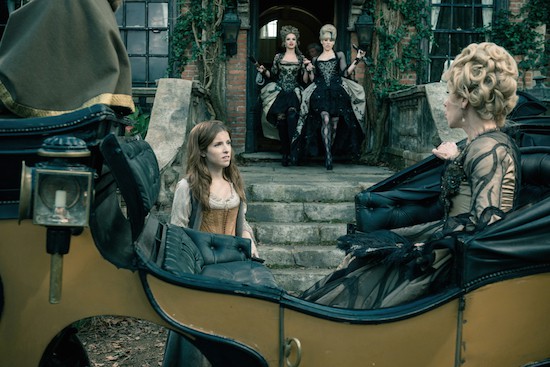 About Disney's Into the Woods:
From the director of "Chicago" and the producer of "Wicked" comes a modern twist on the beloved fairy tales you thought you knew.

Academy Award®-Winning actress Meryl Streep (Best Actress, The Iron Lady), leads an all-star cast in this enchanted adventure about daring to venture Into The Woods.

Iconic characters, such as Cinderella, Little Red Riding Hood, Jack and the Beanstalk and Rapunzel, find their fates intertwined with a humble baker and his wife, whose longing to have a child sends them on a quest to reverse a witch's (Streep) curse.

With an all-star cast, this spellbinding adventure is everything you could ever wish for!
The story and the music in Into the Woods are enough to entertain nearly anyone, but the cast and production team…you have to see everyone contributing to the magic of this movie:
Meryl Streep as the Witch (The Devil Wears Prada, August: Osage County)
Johnny Depp as the Wolf (The Lone Ranger, Sweeney Todd)
Emily Blunt as the Baker's Wife (Edge of Tomorrow, The Devil Wears Prada)
James Corden as the Baker (Broadway's One Man, Two Guvnors, The Three Musketeers)
Anna Kendrick as Cinderella (Pitch Perfect, Up in the Air)
Chris Pine as Cinderella's Prince (Star Trek Into Darkness, Jack Ryan)
Lilla Crawford as Little Red Riding Hood (Broadway's Annie)
Daniel Huttlestone as Jack (Les Misérables)
MacKenzie Mauzy as Rapunzel (Brother's Keeper, Broadway's Next to Normal)
Producers: Marc Platt (Wicked), Rob Marshall (Academy Award®-winning musical Chicago), John DeLuca (Nine) and Callum McDougall (Wicked).
Director: Rob Marshall (Chicago, Pirates of the Caribbean: On Stranger Tides)
Composer: Stephen Sondheim (Sunday in the Park With George)
Into the Woods is newly available on Blu-Ray & Digital HD, and right now, you can save 50% on the list price!
Regularly priced at $40, you can get Into the Woods for just $19.98, and it's even eligible for free shipping!
As a special treat, I also have some gorgeous Into the Woods concept art from costume designer Colleen Atwood:

About Colleen Atwood:
COLLEEN ATWOOD (Costume Designer) has won three Academy Awards®, for her costume designs in Tim Burton's 2010 hit "Alice in Wonderland," and the Rob Marshall-directed films "Memoirs of a Geisha" and "Chicago."

Among her many other honors, Atwood has also received Oscar® nominations for her work on "Snow White and the Huntsman," Marshall's "Nine," Burton's "Sweeney Todd: The Demon Barber of Fleet Street" and "Sleepy Hollow," Brad Silberling's "Lemony Snicket's A Series of Unfortunate Events," Jonathan Demme's "Beloved" and Gillian Armstrong's "Little Women."

Her previous work with Tim Burton includes "Edward Scissorhands," "Ed Wood," "Mars Attacks!," "Planet of the Apes" and "Big Fish." She also collaborated with director Jonathan Demme on his Oscar®-winning Best Picture "Silence of the Lambs," as well as "Philadelphia" and "Married to the Mob."

In addition, she designed the costumes for the Johnny Depp starrers "Public Enemies," "The Tourist" and "The Rum Diary."

Atwood's costume designs will next be seen in Tim Burton's "Big Eyes" and in "Alice in Wonderland: Through the Looking Glass."

She counts among her many other film credits J.J. Abrams' blockbuster "Mission: Impossible III," Andrew Niccol's "In Time" and "Gattacca," Tom Hanks' "That Thing You Do!," Lawrence Kasdan's "Mumford" and "Wyatt Earp," Michael Mann's "Manhunter" and Michael Apted's "Firstborn," which marked her first film as a costume designer.

In November, 2014, Atwood debuted an exclusive line of luxury handbags.
[maxbutton name="buy into the woods"]
Disclosure: Disney and/or the associated PR firm provided me with the product to facilitate the review.