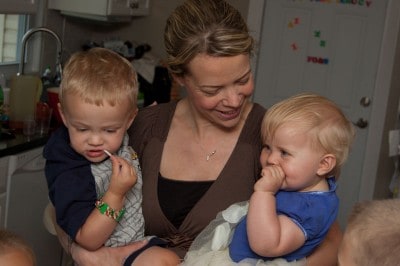 Sometimes an everyday task takes me completely by surprise in its intensity. It's the kind that leaves me needing a few deep breaths as I try to relax, cool down and regain at least a somewhat calm feeling.
I was once a mom to "two under two." (They were actually almost "two under one" for a few days when my OB was convinced I was going to go into labor two weeks before my due date. Now there's a panic-inducing moment!). My little ones were born just 12 months and five days apart. It was planned, it's been amazing, and my husband and I absolutely love the small age difference between our son and daughter. We tell all of our friends we highly recommend 'two under two'!
I can't deny that I have my hands full, but I don't know if it's all that different than raising one baby. I do know that, while I'm fairly even-keeled, I've experienced plenty of small, stressful moments that left me wanting to wipe my brow and just cool down.
Like the first time I attempted to take both Haiden and Piper to the mall by myself with our new double stroller. It wasn't until I was in the parking lot with the stroller at my feet that I realized I'd not only never unfolded it by myself before, I actually had never even watched anyone else do it either. After wrestling with it for at least 10 minutes, another mom took pity on me and managed to figure out how to get the stroller into the right position. After loading the babies into the stroller and rolling into the mall, I was very nearly ready for a shower!
Or the multiple times I hauled a bucket-style carseat and a 12 month old into a grocery cart then found myself carrying a basket because the kiddos took up all the cart space.
Then there's just the chasing, the occasional panic and the occasional embarassment that comes with being a mom to one (or two) little ones. I'm not going to lie–there are plenty of times when I could have used an instant cool-down.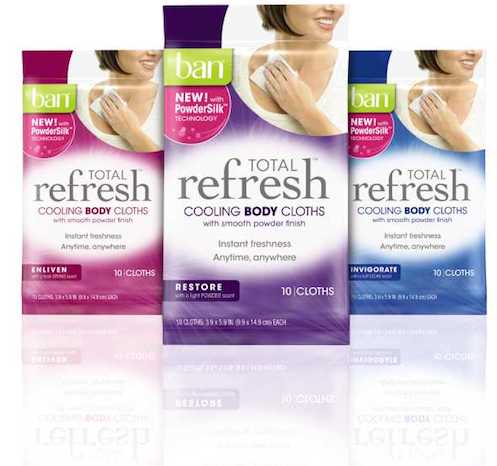 I can't tell you how much I would have appreciated new Ban Total Refresh Cooling Body Cloths following all of those moments!
Given that these things are so popular they're flying off store shelves and being sold to the highest bidder on Ebay right now, I feel like I was pretty lucky to get three different packs of Ban Total Refresh cloths to try out.
I really was expecting something like a scented alcohol wipe inside my package of Enliven-scented cloths "with a fresh, spring scent." I was surprised to find something far more pleasant-feeling that seemed to last and last.
Ban Total Refresh Cooling Body Cloths are the first-ever in the United States on-the-go cooling cloths that leave you feeling completely refreshed, with just one wipe.

What truly sets Ban Total Refresh™ Cooling Body Cloths apart is the unprecedented, proprietary PowderSilk™ technology imported exclusively from Japan.

These revolutionary cloths instantly cool on contact and leave skin feeling refreshed with a translucent, superfine powder so skin stays smooth and comfortable with no sticky residue.

The cloths transform hot, sticky skin into refreshed and reinvigorated skin– in an instant, giving you the reset you need to keep up with your active lifestyle.
I'm pretty sure that PowderSilk is pure magic. The powder isn't visble on skin, and it left my skin feeling clean, smooth and silky, rather than that still-damp feeling that comes from using a baby wipe or a wet washcloth.
I'm going to be traveling with my family pretty soon, and Ban Total Refresh Cooling Body Cloths are definitely going to be in my purse the entire time we're gone. The thought of having them with me actually makes me dread those 'sweaty mommy' moments a little bit less!
Look for Ban Total Refresh Cooling Body Cloths in almost any drugstore, grocery store or major retailer. You can also follow Ban on Facebook to learn more about their products.
Disclosure: Compensation was provided by Ban via MomTrends. The opinions expressed herein are those of the author and are not indicative of the opinions of Ban or Momtrends.
If you enjoyed this post like BabySavers on Facebook for more goodness.