This post brought to you by Carton Smart. All opinions are 100% mine.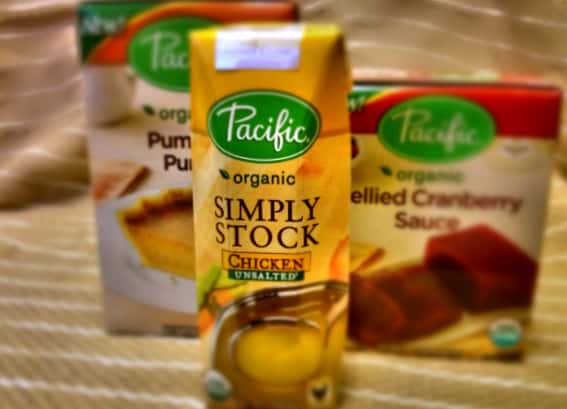 Keep reading to find out how to enter the $1000 giveaway!
One of the first things that comes to my mind when I think about the holidays is cooking and baking. So many memories and good feelings are wrapped up in the foods I share with family and friends, just writing about it makes me want to get to work in the kitchen!
I consider myself fairly environmentally conscious—I limit my use of plastic bags, try to use reusable containers, I recycle everything that can be recycled and, overall, I'm very conscious of how my actions impact the environment.
Sometimes it's a bit disheartening to toss my waste into a recycling bin, only to see a dirty trash bin overflowing with goods that could have been recycled. It makes me wonder if my actions are doing any good at all. Then I'm reminded that I'm definitely not the only one recycling. As an individual, my actions feel small, but, when multiplied, those small decisions add up.
Tetra Pak's carton packages are designed for maximum efficiency and environmental friendliness, and their designs make those smart little decisions even easier. Here are just a few reasons to choose products in Tetra Pak cartons:
Tetra Pak cartons are made of 70% paper, which is a renewable resource.
Tetra Pak cartons are recyclable and use 1/3of the packaging compared to cans. They ltimately result in 60% less landfill waste than cans.
The cartons are reclosable, meaning you can use what you need and save the rest for later. It also eliminates using another container to store the excess!
The unique packaging process preserves the flavor and nutrients in food without using preservatives.
There are so many fantastic foods packaged in cartons that can be used to Become Carton Smart when preparing holiday meals. Two items that surprised me when I saw them were Pacific Foods jellied cranberry sauce and Pacific Foods Organic pumpkin puree. I had no idea either one of these came in anything other than a can!
This year, my family and I are heading to my sister's for Thanksgiving. My sister and I are close and we both love to cook, so I'm more than happy to bring a ton of ingredients and spend the day cooking and preparing for Thanksgiving dinner alongside her. In years past, I've made a fabulous stuffing that's a mix of cornbread, white bread, veggies, herbs and chicken broth. If I make it this year, I'll be sure to buy Pacific Foods chicken broth that comes packaged in Tetra Pak cardboard rather than a can.


Cornbread Stuffing Recipe:
Cornbread Stuffing Recipe Ingredients:
1 Pan Of Cornbread (homemade or made from a mix), in 1-inch cubes
1 16oz loaf French Bread, in 1 inch cubes
1 stick butter
1 medium onion, diced
4 stalks celery, chopped
4 cups Pacific Foods No Sodium chicken broth
½ teaspoon dried basil
½ teaspoon dried thyme
1-2 teaspoons dried rosemary, chopped
¼ cup fresh parsley, chopped
Salt and pepper to taste
Cornbread Stuffing Recipe Preparation Instructions:
Spread the cubed cornbread and french bread out on two baking sheets and let dry overnight. (I put them in my cold oven because I hate letting food sit out).
Melt the butter over medium heat in a large skillet. Add the onion and celery and cook until the onions start to get soft and translucent.
Add chicken broth and bring to a boil. Remove from heat and add basil, thyme, rosemary and half of the chopped fresh parsley. Stir until combined.
Place dried bread cubes in a large bowl and mix them up a bit. Gradually pour the broth mixture into the bread, tossing as you go. Keep gradually adding the broth mixture until the bread is fully moistened. Add salt and pepper to taste. Place in two greased baking dishes and bake at 350 degrees for 20 to 25 minutes, until golden brown on top.


Ready to win?
Want to win $500 for you and $500 for the charity of your choice?
To enter the giveaway, visit CartonSmart and leave a comment below sharing your "small smart" recipe that uses ingredients in cartons OR a smart entertaining tip that produces great tasting food with little waste.
Note: Izea (the facilitator of this blog post) is hosting this giveaway, so please see the official rules here: https://socialspark.com/carton-smart-rules.