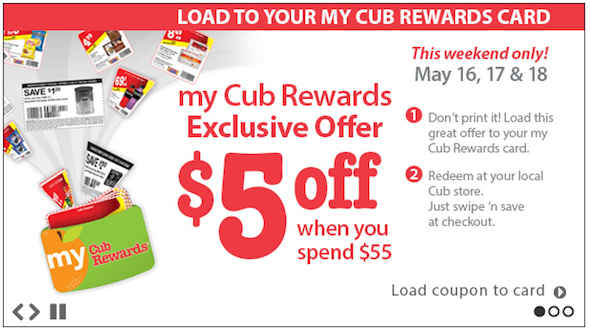 Cub Foods shoppers, make sure you visit Cub.com and load this coupon onto your My Cub Rewards card before you go grocery shopping this weekend: you'll save $5 on your purchase of $55 or more. If you plan it right, that's like saving 9% on your entire grocery purchase without doing any work!
I wrote about Cub Foods new Load to Card coupon program a few weeks ago–I love it because it's paperless. Since coupons tend to end up all over my house instead of in my wallet or at the grocery store, having everything on my own My Cub Rewards card is the best way for me to actually take advantage of the savings!
Cub Foods created a great 3-minute video tutorial that explains exactly how you can save money using your My Cub Rewards card:
This video walks you through a step-by-step process of getting the coupons loaded onto your card. If you've looked at the Cub Foods website and ended up confused, check out the video above and I'm positive you'll walk away understanding how to load coupons onto your My Cub Rewards card!
If you take advantage of the $5 off $55 coupon that's available for the weekend, there's no reason not to load up some additional savings onto your card. There are coupons for the most basic items at the grocery store, so take advantage of extra savings!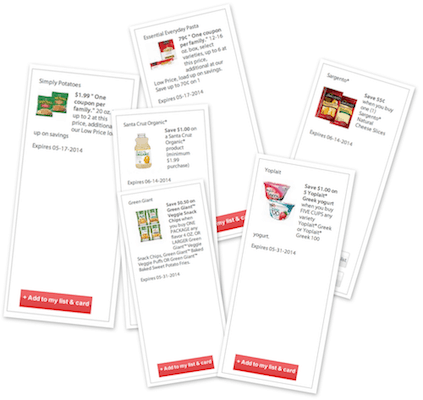 You can save on milk, juice, potatoes, cheese, pasta and lots of other items. There are actually 90 offers you can load onto your card. You can load 1 or you can load 90–there's no limit, so make sure you add everything that you might want to your card and instantly save at checkout!
If you don't already have a My Cub Rewards card you can sign up immediately online, print out a temporary card and start loading coupons onto it at the same time. Print out your card and present it to the cashier at checkout. All your savings will be taken off your total before you pay!
If you're in the Minnesota area and you're looking for easy ways to save money on groceries,sign up for My Cub Rewards and start loading coupons onto your card to instantly save at checkout!
Disclosure: this post provided by Cub Foods and the accompanying PR firm. All opinions expressed are genuine and 100% my own.