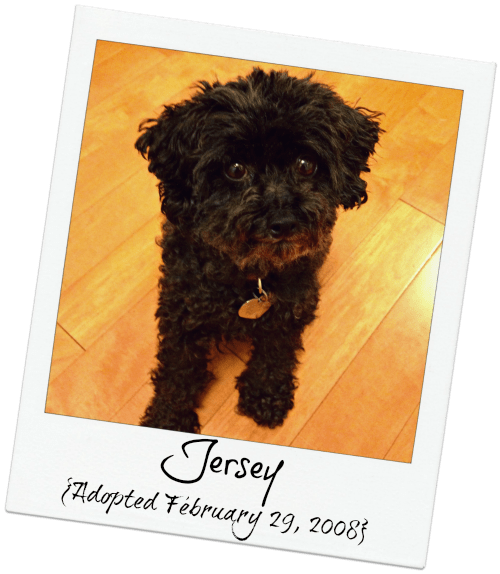 This is Jersey. I like to say that, after my husband and our children, Jersey is the best thing that's ever happened to me. 
I don't believe too much in fate or "letting the universe decide" when things will happen, but I do believe that Jersey and I were meant to find each other.
I live in Minneapolis. There are always plenty of animals needing homes throughout the metro, so I was sifting through hundreds and hundreds of listings for a small dog that might appeal to my sister. For some reason, my eyes landed on a picture of a shaggy little thing. Her fur was so long it was twisted into tiny spiral corkscrews that covered her entire body, including her eyes. A voice inside me whispered, "She's yours."
10 minutes later, I had made arrangements to meet the dog that night. I sent an email to my sister with the photo attached. I called my husband and shocked him by telling him that I not only wanted a dog, I wanted one now. And, by the way, "She's4poundsandweregoingtomeethertonightandIneedher."
My sister, who knows me inside and out, emailed me back within seconds. Her reply said, "Oh. Em. Gee. That dog is so cute. If you don't adopt her, I'm going to!"
You wouldn't know it from most of the photos of myself that I make public, but my hair is long and naturally curly. The night I met Jersey, I didn't have time to do my hair, so it was a bit of a frizzy, curled up mess when I approached her foster mom. I walked up to her, and she said, "You must be here to meet the dog. You have to adopt her. You have the same hair!" When I got a good look at the little dog, I kind of resented her greeting, but I couldn't deny that she was right–I had to have her.
On February 29, 2008, Jersey came home for good. I'm not joking when I tell people that she's my little sidekick. From the day I brought her home, she's followed me around everywhere, and I'm happy to have her with me all day.
Cesar is celebrating the amazing relationship between people and dogs through hosting the #sharethejoy Twitter event. They're giving away 10,000 Savory Delights!
From September 5th until September 12th, dog lovers are invited to join @CesarCuisine in sharing the joy of a dog's companionship in return for free Savory Delights meals!

Create a tweet sharing why your dog means so much to you and tag and follow @CesarCuisine
Include the hashtag #sharethejoy in your tweet
Encourage your friends and Twitter followers to #sharethejoy with others to receive their own complimentary meals from CESAR Canine Cuisine
@CesarCuisine will follow-up to gather shipping details and reward 5,000 dog lovers with two complimentary Savory Delights meals.
Cesar sent Jersey and me a great selection of Cesar Savory Delights. It's obvious that I think my dog is pretty special, and I'm not going to say I don't spoil her. At the same time, I don't think Jersey has ever felt as spoiled as she has since I've started giving her tastes of the Savory Delights!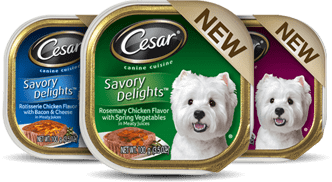 For a dog that's used to a diet of dry food with the occasional bite of hot dog or macaroni and cheese dropped from the kitchen table, adding tastes like Rosemary Chicken, Porterhouse Steak, Filet Mignon and Egg & Ham has been very exciting for her and very amusing for me!
Since she's so little I give Jersey about a quarter of a tin of Cesar Savory Delights twice a day. She's begun waiting by her full dish of dry food in the mornings and evenings until I give her the Cesar dog food. It's only after the Cesar is gone that she actually gives in and eats the dry food that's always available to her!
Do you love your dog? If you want to share what your dog means to you, get on Twitter, share your story and get some FREE Cesar Savory Delights!
You can also Visit the Cesar website and access a Cesar printable coupon to get aFREE tin of Cesar Savory Delights when you buy 3!
Learn more about Cesar Canine Cusine when you visit Cesar.com or check them out on Facebook at Facebook.com/Ceasar.
I wrote this review while participating in an ambassador program by Mom Central Consulting on behalf of Cesar and received product samples and a promotional item to thank me for taking the time to participate.