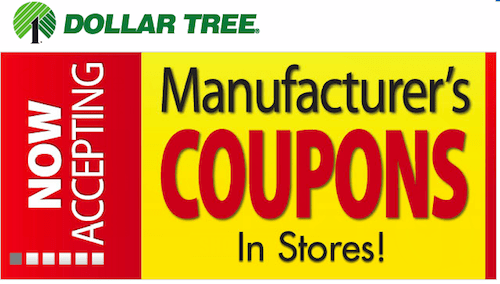 I love shopping at Dollar Tree for a wide variety of items. As with any store, you need to be careful that you're getting the best bang for your buck when you shop there, but there are plenty of great deals to be found.
Even better, as of today, Dollar Tree is now accepting manufacturer's coupons in all stores! All of Dollar Tree's policies can be found on their Customer Service Terms and Conditions page, but here's the text of Dollar Tree's coupon acceptance policy:
IN-STORE COUPON ACCEPTANCE: GUIDELINES & LIMITATIONS

Only original and intact manufacturers' coupons will be accepted. Retailer-specific coupons will not be accepted.
Coupons are void if copied, scanned, or if they have been altered in any way.
Only two (2) print-at-home Internet coupons may be redeemed per transaction.
We are unable to accept coupons for "Free" items with no purchase requirements or where the amount for the product is blank.
Coupons can only be used in stores and must be presented at time of purchase. Coupons cannot be redeemed for cash at a later time.
Coupons will not be accepted without the purchase of the item specified and are subject to the terms listed (e.g. expiration date, size, limitations, quantity, etc.).
Coupons cannot be redeemed for more than the purchase price of the item.
Only one (1) manufacturer's coupon will be accepted per item.
Management has the right to refuse any coupon or otherwise limit quantities.
For my own shopping game plan, the most important part of the above policy is #3: Only 2 print-at-home (aka printable) Internet coupons may be redeemed per transaction.
You may have noticed that the in-store deals that I publish on BabySavers.com very rarely include pre-printed manufacturer's coupons. I like to post the most accessible baby deals, and those usually only incude those that have a coupon that can be printed and brought to the store, rather than making you sort through newspapers that you may or may not have in your possession!
Even with that two printable coupons restriction, I'm super-excited about using coupons at Dollar Tree! I shop there frequently without coupons, so I imagine my shopping trips will only be more satisfying when I can throw in a few coupons at checkout!
Since Dollar Tree has nearly 4,500 stores in the US with stores in every state (except possibly Hawaii and Alaska) you can look forward to seeing far more Dollar Tree deals posted here!
Will you be shopping with coupons at Dollar Tree?