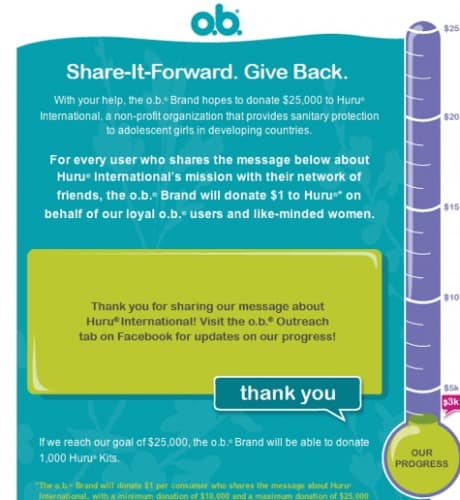 Do you ever remind yourself that the everyday, routine items that we feel are "necessities" in our lives would truly be considered luxuries to people in developing countries? Every once in a while I find myself in disbelief that there are tons of people throughout the world who live without running water, toothbrushes and telephones.
Call me sheltered, but it's never crossed my mind that women may not have access to sanitary products like pads and tampons to make it through the days when they have their periods. Honestly, I panic when I'm running errands during "that time of the month" and I realize I've forgotten to bring a tampon to use within the next few hours. I'm not alone in that feeling, right?
Can you imagine not having even a single sanitary napkin to keep yourself and your clothes clean for every day of your period? Even worse, can you imagine being a young woman, adjusting to all the bodily changes of becoming an adult, and being in that same situation? 
Throughout developing countries, poverty makes sanitary products an unaffordable luxury for countless girls, forcing many to adopt a range of unsafe measures to Throughout developing countries, poverty makes sanitary pads an unaffordable luxury for countless girls and young women, forcing many to adopt a range of unsafe measures to meet their needs. Some of the dire alternatives frequently resorted to in the absence of safe, affordable sanitary products include sifting through trash to find and recycle used pads; or improvising pads from newspaper, old clothing, pieces of mattress, and other unsafe materials….

Most girls simply choose to stay home, avoiding the stress, uncertainty and humiliation of makeshift protection. As a result, many reported that they always felt left behind in school, unable to catch up with the work they had missed. We found that these gaps in their education were almost impossible to overcome.
According to UNICEF, one in ten African girls either skip school during their periods, or drop out entirely. As a result, they miss critical school lessons and risk compromising their futures. The lack of education in an already-devastatingly poor society frequently leads to prostitution and the greatly increased risk of contracting and spreading HIV.
HURU International was launched in 2008 with the purpose to provide HURU kits to at-risk girls in developing countries. Each Huru® Kit comes packaged in a drawstring bag that doubles as a backpack, and includes:
Eight reusable sanitary pads
Three pairs of underwear
Detergent-grade soap to wash the sanitary pads
A re-sealable, waterproof bag to safely store used sanitary pads
Educational insert focused on proper Huru® pad care and usage, and
Life-saving HIV/AIDS prevention information
Now through December 5, the O.B. Brand is asking Facebook users to "Like" the mighty. small.™ movement page and "share" a message about our mission on the o.b. Outreachpage. For every user who shares the message about HURU International's mission with their network of friends, the O.B. will donate $1 to HURU, up to $25,000.
Want to participate and donate for free to HURU International? Here's how:
Like the mighty.small.movement page on Facebook.
Select your state from the drop down box (under the green box).
Put a check mark next to the box that says you've read the Terms & Conditions.
Click the pink "Click to Share" button to post the message on your Wall.
Here's how the final donation to HURU International will work:
The o.b.® Brand will make a minimum donation of $10,000 to Huru® International, and an additional $1 per consumer who shares the message about Huru®, up to $25,000. Donation not valid for consumers living in Alabama, Maine, Massachusetts, and South Carolina. Limited to one share per consumer.
As of today, November 13, they've only raised $3,000. I know they can reach their goal of $25,000, but we all need to help! I've "Shared" the Mighty.Small. message on my own Facebook wall. Will you do the same?
I wrote this review while participating in a campaign by Mom Central Consulting on behalf of o.b. and received a promotional item to thank me for taking the time to participate.