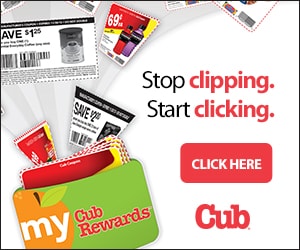 Sunday coupon inserts are wonderful tools for saving money for a lot of people. For me, though, they're a source of clutter, stress and a constant reminder that I'm a failure at keeping my home organized.
That's why I rarely mention or require newspaper coupons for any of the diaper deals, baby deals or other in-store deals that I share here. I understand we're all busy, and I want to make saving money as easy as possible for everyone.
Cub Foods just started offering offering a great way to save money that's right up my alley: the Cub Rewards program now allows all of us to load coupons on our Cub Rewards card and then use the card to automatically redeem the savings at checkout.
I'm so excited because this is literally paperless couponing. That means I don't need to find coupons, clip coupons, remember to bring my coupons to Cub or remember to use my coupons at checkout!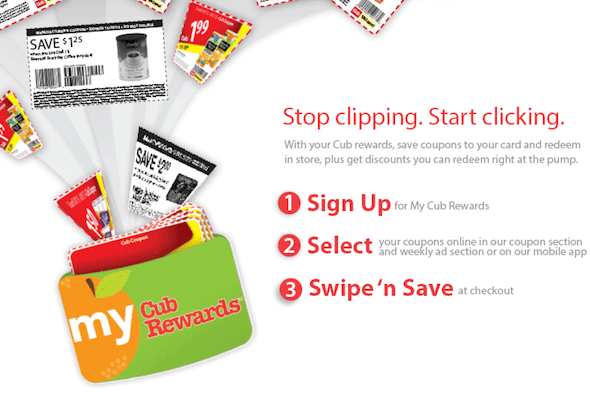 Here's how the My Cub Rewards Load to Card coupon program works:
Sign up for a My Cub Rewards card online or in stores. You'll immediately get a printable temporary card to use (or your real physical card if you enroll online).
Log into your Cub Rewards Account and add coupons to your "Shopping List" from the weekly Cub Foods ad, the Cub coupon book or the coupons section of Cub.com onto your rewards card.
Shop at Cub Foods for your groceries, including the items that correspond to the coupons already added to your card.
Swipe or provide your My Cub Rewards card at checkout and the coupons will be automatically deducted from your total.
I have to say, I'm super-excited about not having to even pick up a weekly ad when I go into a Cub Foods store from now on. The thought of keeping my shopping cart free from paper clutter is something that makes me very happy!
If you're in the Minnesota area and you're looking for easy ways to save money on groceries, sign up for My Cub Rewards and start loading coupons onto your card to instantly save at checkout!
Disclosure: this post provided by Cub Foods and the accompanying PR firm. All opinions expressed are genuine and 100% my own.