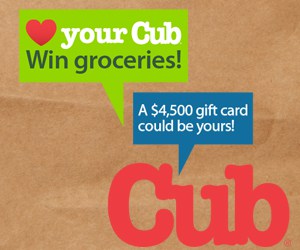 Residents of Minnesota and Illinois are eligible to enter a great sweepstakes sponsored by Cub Foods!
There will be over $4,500 in Cub Foods gift cards given away, and, because the contest is only open to residents of two states, the odds of winning are really good!
One grand prize of $4,500 in Cub Foods gift cards will be awarded to the winner, and 4 $45 Cub Foods gift cards will be randomly awarded to other entrants!
The contest requires a photo or video entry, don't be intimidated by the thought of your face on someone else's screen. There's nothing that states that you have to be pictured in your entry, so snap a photo of your groceries, of your store or your receipt showing your purchases and get in on the chance to win!