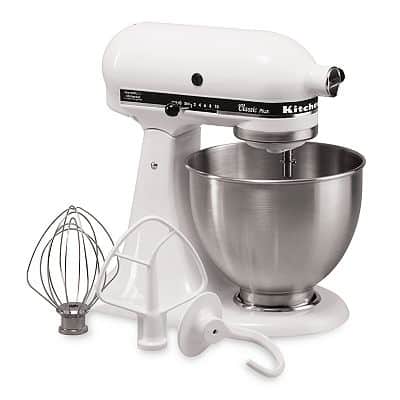 If you've been waiting for an amazing deal on a KitchenAid mixer, Kohl's has one all lined up for you! This is a bit better than the other KitchenAid mixer deal, since you'll get 20% off with the updated promo code. You'll pay a bit less out of pocket but you'll get less Kohl's Cash.
Feel free to add something for about $8 to your cart to get your total over $150 AFTER the promo code is applied. If you do that you'll get another $15 in Kohl's cash! 
Visit the KitchenAid page at Kohls.com
Look for the white KitchenAid Plus 4.5 qt Stand Mixer that's on sale for $199.99. Plus, you'll get an extra 10% off that price because the Thanksgiving sale is going on!
Add the mixer to your cart
If you'd like to get another $15 in Kohl's Cash, add something for about $8 (before coupon code) to your cart
and head to the checkout screen.
Enter Kohls.com promo code CON20HH4 to get another 20% off.
Your total cost today should be $143.99 plus a $3.25 shipping surcharge and your local sales tax.
You will earn $15 in Kohl's Cash for every $50 you spent (a total of $30 to be used like cash at Kohl's starting 11/28)
Submit for this $20 KitchenAid Mail in rebate
Your grand total after the rebate and Kohl's Cash is right around $103 after taxes!
Finally, don't forget to shop through Ebates and get 4% cash back on your entire purchase! Even better, new users who sign up for a free Ebates account through this link will get $5 cash for FREE!
On a personal note, I also want to add that I've had my own KitchenAid stand mixer for many years. It was a treat to myself after I got a promotion in my early working years. It's taken me a while to "get to know" my mixer, but it's truly an amazing piece of equipment, and it's just as valuable as everyone said it would be! If you like to bake yeast breads, I guarantee you'll wonder how you ever lived without the dough hook!