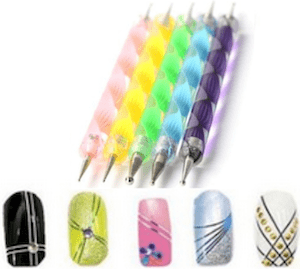 There are lots of nail art kits, tools and supplies selling on Amazon for as low as $1.32 with free shipping! There's not even a minimum purchase to get them shipped for free!
If you have a little girl, tween, teenager or an adult woman who loves nail art on your holiday list, buy one or more of these and get some great gifts on the cheap!
Here's what I'm seeing:
Nail Art Dotting Tools  ::  $2.43 shipped!
Nail Art Tape Sticker Set  ::  $1.63 shipped!
1,800 Nail Art Rhinestone Glitter Gems  ::  $1.75 shipped!
OPI Correct & Clean Up Pen  ::  $7.50 shipped!
SET of 10 Nail Decoration Hologram Adhesives  ::  $1.64 shipped!
15-piece Nail Art Painting Pens & Brushes  ::  $2.74, shipped!
Nail Art Tweezers, Set of 2  ::  $2.93, shipped!
Professional Nail Art Brushes, Detailer, Liner Set of 3  ::  $1.32, shipped!
144-piece 3d Flower Slice Nail Art Decoration  ::  $2.81, shipped!
1800-piece Nail Art Rhinestones Round 1.5mm  ::  $3.84, shipped!
100-piece 3D Nail Art Design Sticks  ::  $5.45, shipped!
5-piece 2-Way Nail Marbleizing Pen Tool set  ::  $2.89, shipped!
144 Pcs 12 Color 3D Butterfly Shaped Nail Art w/ Wheel  ::  $2.77, shipped!
Konad Nail Art Double Ended Stamper And Scraper  ::  $6.99, shipped!
350 Fashion Caviar Multicolor Nail Beads  ::  $3.95, shipped!
Remember, Amazon prices flip fast. If you see something you like at a price that works for you, you may want to buy it in case the cost goes up.
See all posted toy deals or just Amazon toy deals!