I don't have to tell you that there are tons of sites to go to find coupons, cash back and/or deals for items you're shopping for. There's also no shortage of charitable organizations where you can donate time or money to fight the tragedy that is childhood hunger.
Now I want to share a site where you can search for coupons and special deals from thousands of online retailers. Even better, every single time you or someone else uses an online coupon or special offer from Save1 they pledge to provide a meal for a hungry child in need of nutrition.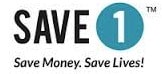 How does Save1 make money to provide meals? 
Save1 receives a small commission from the store where you make your purchase if you find a deal or coupon through their site. That commission funds the meal. While the commission can be small, a single meal can cost under $0.50, and $30 a month can bring a child back from the brink of starvation in a third-world country.
If you're anything like me, you're skeptical. It sounds fantastic, but how do we know that this site is for real and that they're doing what they say they're going to do? First, they've made a financial pledge that states several points. Among them are these key statements:
We will feed children by making monthly donations to credible 501(c)(3) organizations that have a history of efficiently delivering meals to hungry and malnourished children. Save1 has carefully developed criteria and strict guidelines to make sure they choose the partners that fit their goals. 

All Save1 Feeding Partners are required to provide Save1 with an acknowledgement letter showing the number of meals provided with each donation. Those letter are posted on the Save1 website.
Save1 is a for-profit organization and they will engage an independent accounting firm to audit financials and verify statistics as soon as their revenue justifies the expense.
I like that Save1 is up-front in that they're a business, not a charity. They're just a business who has a philanthropic goal that will be sustained as the business grows.
If you're looking to do some good while shopping online, shop visit Save1 before you make your purchase!
This post was provided by Save1. All Opinions Expressed are my own.