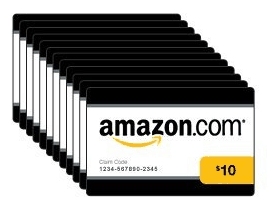 Who couldn't use a FREE $10 Amazon gift card?
Hurry over here and sign up for StumbleUpon. Then, use the Facebook, Twitter or good old email to refer your friends. You'll get a FREE $10 Amazon gift card when 5 of your friends sign up! It's just a total bonus that StumbleUpon is amazing! See below for my little testimonial 🙂
Here's a quick step-by-step on how to get your FREE Amazon gift card! Be sure to follow these steps exactly in order. Otherwise, you may not be eligible for your gift card!
Sign up for StumbleUpon via this link
Sign up for your StumbleUpon referral link
Invite friends using the Facebook, Twitter or Link buttons. (don't use the Email button, as others are reporting that it's not working correctly)
Wait for your $10 gift card when 5 friends sign up.
To be 100% honest, I absolutely LOVE StumbleUpon. It's an addicting way to find new websites, pictures and ideas in categories that are interesting to you! StumbleUpon is a goldmine of information–even better, it's easy to search what you've already found, making it a great resource for saving and going back to great content.
I especially love it for
crafts, recipes and parenting ideas!
If you'd like, once you sign up for StumbleUpon you can
follow me
and take a look at everything I've "stumbled".