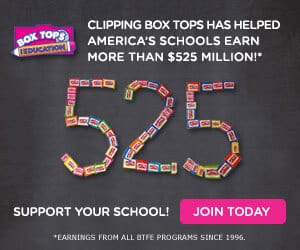 I hate to even mention this, but summer vacation is just a few months away. That means NOW is an excellent time to earn Box Tops for your local school! Click on the banner above to sign up!
Join Box Tops for Education, designate the school where you want your proceeds to go and then start earning online "Box Tops" which count as cash for schools!
This is a great way to help your future school or any of our schools that can always use more funds to get any supplies they need.
I signed up for the Box Tops for Education online program long before I had kids of my own. While I don't use it often, I designated an elementary school in my hometown that my aunt used to work at to receive the proceeds from my activity. The school is in a low-income area and those kids, teachers and staff need all the funds they can get. I love that it's a FREE way to help out!
Click on the image above to sign up to get Started with Online Box Tops today!