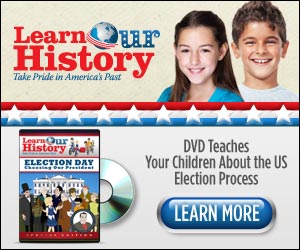 For a limited time, you can get this great Learn Our History DVD for FREE! Just pay shipping! Great and simple way for kids to learn our history!
Animated time travel makes learning fun and exciting
Gives your children a front-row seat to history in the making
So much fun, your kids won't even realize they're learning
Teach your children the facts in a way they'll easily understand
Created by Emmy Award-winning animators
With this offer you will also get FREE Learning Guides and the ability to stream this video for FREE!
Shipping is only $4.95 for all this great information. And this is a great way to get the kids to learn a little something over the summer! Or a perfect tool for those of you who homeschool!
You will be enrolling in a monthly club to receive a new DVD each month, but there is no further obligation You may cancel at any time simply by calling Learn Our History at (877)US-HISTORY.
So head over and get your Learn Our History on DVD for FREE today!