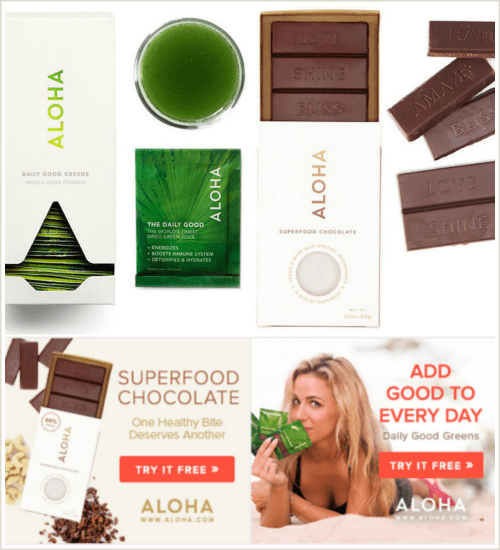 ALOHA is dedicated to conveniently bringing you great tasting, high quality nutrition that lifts your spirit.
Their products are made only from natural and organically grown ingredients, and developed with the assistance of more than 200 health experts. Aloha's products are socially and environmentally sustainable, as well as free of artificial colors, flavors, sweeteners, or additives.
For a limited time you can get a Free Trial of either the Daily Good Greens pouches or the Superfood Chocolate bars! Note: the only cost to you is shipping: just $2.79 for the Superfood Chocolate and $4.79 for the Daily Good Greens.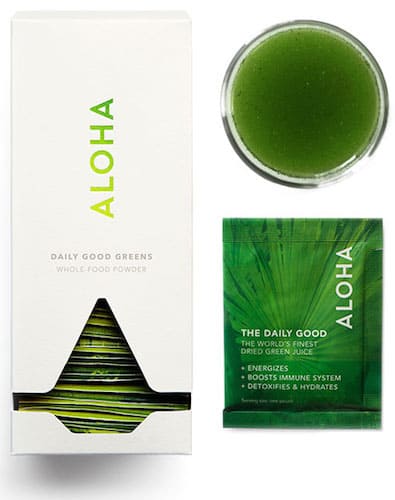 ALOHA's Daily Good Greens Whole-Food Powder makes it easy and simple to get the superfoods your body needs (and more), all in one convenient pouch.
With the Free Trial of Daily Good Greens Whole-Food Powder, you'll get 2 pouches each of the Original, Chocolate, and Berry flavors. Each pouch contains 2 servings of fruits and vegetables and just 35 calories. Mix these into any smoothie, drink or recipe of your choice to boost the nutritional value of your foods!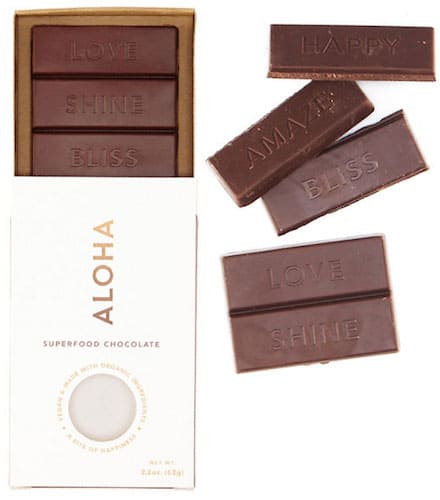 If you have more of a sweet tooth, try the free trial of Superfood Chocolate. You'll receive 1 full-size chocolate bar with your trial, which contains 1 serving of fruits and vegetables, is sweetened only with coconut sugar, and is made with 60% fair-trade-cacao.
If you become hooked on their products, they also offer Free Shipping on all orders over $50.
[maxbutton name="AlohaCTA"]