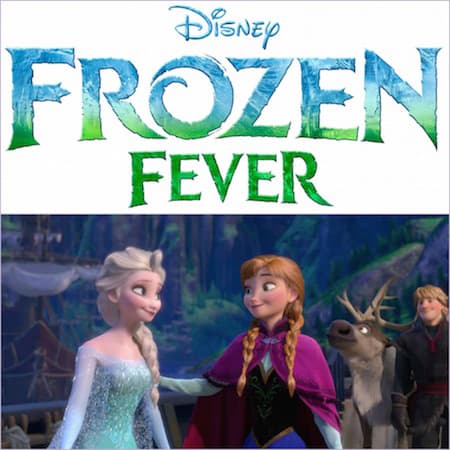 I mentioned this when I wrote about Disney's Feast, the amazing 6-minute film that show's in theaters immediately before Big Hero 6:
I love that Disney movies of late have had special, fully-produced shorts in front of the feature film. It adds something really special to the moviegoing experience, and I'm thrilled to hear that it's going to happen in theaters with Disney's Cinderella in just a few months!
Even better, the newest short is Frozen Fever, a continuation of 2013's Frozen!
Walt Disney Animation Studios' all-new short "Frozen Fever," which welcomes Anna, Elsa, Kristoff and Olaf back to the big screen, will open in theaters on March 13, 2015, in front of Disney's "Cinderella," a live-action feature inspired by the classic fairy tale.

Directed by Chris Buck and Jennifer Lee, and produced by Peter Del Vecho and Aimee Scribner, with an all-new original song by Robert Lopez and Kristen Anderson-Lopez, "Frozen Fever" marks the first project reuniting the Oscar®-winning original team from Disney's "Frozen."

In "Frozen Fever," it's Anna's birthday and Elsa and Kristoff are determined to give her the best celebration ever, but Elsa's icy powers may put more than just the party at risk.
Cinderella and Frozen Fever will open in theaters together on March 13, 2015! 
Follow Cinderella on these social media channels to stay on top of all the news: