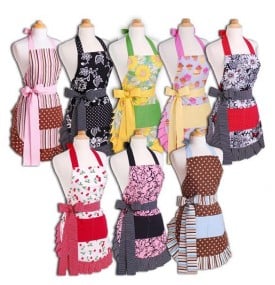 In my opinion, Flirty Aprons is one of the most drool-worthy sites for an almost-domestic-goddess like myself! Nothing makes me feel more like a woman with her home under control than a clean apron; I wish that was all it took 🙂
Today only, Flirty Aprons is celebrating Cyber Monday with 40% off everything in their store AND free shipping when you use FlirtyAprons.com promo code CYBERFLIRTY! 
The site is very busy right now, but I know you can be patient while they work with all those deal-seeking customers!
Happy shopping!