April is Earth Month and we just celebrated Earth Day earlier in the week. I'm always trying to be conscious of the ways my actions impact the environment: I do my best to recycle everything I possibly can and I'm conscious about ways I can reduce our family's consumption of packaging and materials. I do know, however, that I could definitely improve in the "reuse" department.

No matter how much improvement I did in the reusing, repurposing and upcycling department, nothing could compare to the masterpieces found in the Glad Back Bag Recycled Art Auction. The super-talented mosaic artist Jason Mecier has created four pieces of art utilizing "wild life remnants" (also known as trash). That includes trash from these celebrities:
Jesse Eisenberg of The Social Network
Raphael Sbarge of Once Upon a Time
Nathan Kress of iCarly
Nick Offerman of Parks & Recreation
Mercier's works of art are being auctioned off on Ebay through April 26th, and the proceeds will benefit Keep America Beautiful's Great American Cleanup.
Along the same lines, The Picker Sisters are masters at the reusing concept. The Picker Sisters live by the saying, one person's trash is another's treasure. The two best friends actually travel around the US to find reclaimed trash to turn it into merchandise for their store. However, they firmly believe that we don't have to travel far beyond our own home to find items worth transforming into beautiful pieces.
Want to learn more about repurposing trash into treasures? Here are a few tips straight from The Picker Sisters:
Practically practical :: As a designer, it's essential to think about how a piece will function. Will the item get lots of use and have to withstand daily beatings? Make mental note of who will be using the pieces and how often, then design your projects using materials that will suit your lifestyle. Your creations should be both beautiful and functional. For instance, consider using an old trunk as a coffee table. If you want a smooth surface, get some glass cut at your local home improvement store to fit over the trunk, so you can still admire the charm of the piece, while making it useable.

Embrace the eclectic :: Mixing old with new, modern with antique, or rustic with mid-century, can bring freshness to your style and breathe new life into your space. And the good part is, you can choose items you prefer, not items you think you need to make everything match exactly.

Refresh key pieces :: Looking to freshen up your dining room chairs because they've endured their fair share of spills? Don't throw them out. It may be easier than you think to reupholster the cushions with a fresh, new print, or, perhaps something spill-proof. With just a few key tools – such as an electric staple gun, pliers and screw driver – and you can have a fresh-looking dining set. Check out a how-to video at This Old House online.

Inspiration everywhere :: We draw inspiration and ideas from everything around us all the time. Magazines, the Internet and nature itself are brimming with interesting, evocative images and objects that may spark a thought that you can then incorporate into your own design. The most original ideas can come from the most unlikely places. So keep your eyes open and your creative goggles on, and draw inspiration from the great big world around you.
Glad has had an ongoing partnership with Keep America Beautiful during the Great American Cleanup for 27 years, but I just started using Glad Force Flex black bags a few weeks ago. I seriously can't believe how strong they are! I started using them as regular trash bags to line our garbage and recycling cans. When they handled loads of trash without any sort of holes or weak spots, I had to try them out on other things.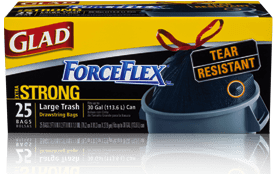 I've recently used Force Flex bags to hold yard waste during our spring cleanup, and they've also held loads of clothing and household goods that I've donated to local charities over the past few weeks. Their tagline of, "handles whatever life throws your way," have proven to be 100% accurate in my home! I even tried to push the end of a wire hanger through the bag and it honestly hardly even stretched, let alone puncture the plastic! 
With features like easy-to-seal closures, odor-shield neutralizing powers and 3-ply strength, there's only strength and dependability to be found in Glad Force Flex bags. Take a look at Glad Black Bags online to learn more about the products, then check out Glad's newest campaign, No Matter How Wild Life Gets, Clean-Up is in the Bag! You can create your own Wild Life episode and enter for a chance to win the $25,000 Grand Prize sweepstakes, or one of their daily $100 prizes!
I wrote this review while participating in a blog tour campaign by Mom Central Consulting on behalf of Glad Black Bag and received a Glad Black Bag product and a promotional item to thank me for taking the time to participate. I was also asked to "pin" one (1) Glad Black Bag Art Auction photo on Pinterest.